Drawing a stick figure, or line figure, is a perfect way for beginners to get comfortable with basic figures for fashion drawing, and it serves as a refresher for people who've done figure drawing before.
Draw an oval to represent the figure's head and then draw a dashed line of symmetry.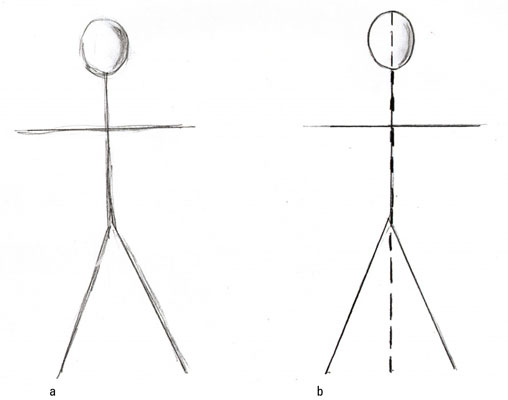 The line of symmetry, or balance line, runs down right through the center of the stick figure's head and continues to the bottom of the stick feet. The line of symmetry serves a number of functions in both figure and fashion drawing.
To establish a line of symmetry, draw a simple stick figure. Then draw a dashed line straight through the middle of your figure.
Draw in seven more ovals stacked along the line of symmetry. Draw a horizontal line four heads down to represent the hips or crotch.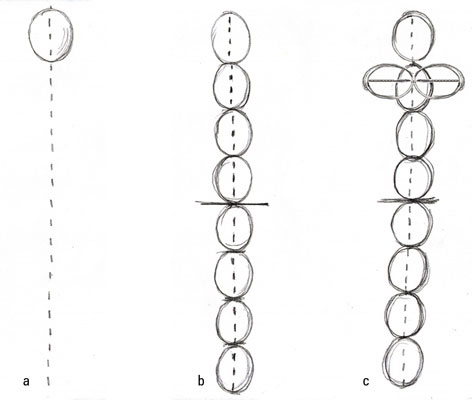 Your stick figure will be eight heads long; the actual head counts as one head, and the body is as long as another seven heads stacked on top of each other.
A third of the way through the second head, draw a horizontal line for the shoulders as wide as two of the ovals on their sides.
For arm placement on each side of the body, draw a straight vertical line that goes from the shoulder line to the bottom of the fifth head.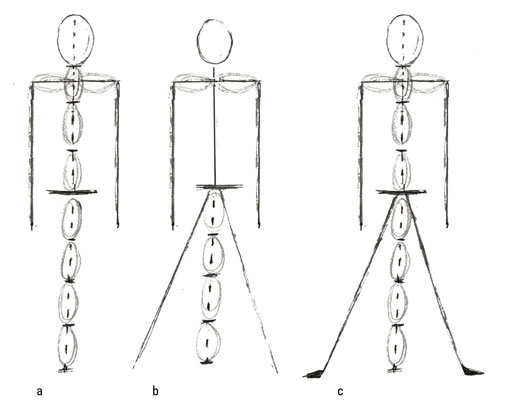 From the line at the hips, draw two angled lines for legs that are four heads long.
At the ends of the two leg lines, draw two small triangles for feet.
After you become proficient at drawing using heads to determine proportion, just create a series of hash marks to mark off lengths equal to the height of the head — you don't need to draw full ovals. This shortcut helps save time and decreases the amount of erasing you need to do.
About This Article
This article is from the book:
This article can be found in the category: