Canadian Small Business Kit For Dummies Cheat Sheet
Canadian Small Business Kit For Dummies Cheat Sheet
Starting a Canadian small business is an exciting and often frightening adventure. With the help of this cheat sheet for Canadian Small Business Kit For Dummies, 4th Edition, you'll find important tips for running a profitable and successful small business in Canada — from knowing where to find the best Canadian online resources like the RBC Royal Bank's website, to determining whether you have the right personality traits to run a start-up business in the first place, and to understanding the main reasons that small businesses tend to fail.
Do You Have a Small Business Personality?
If you're thinking about starting your own company, stop and check whether you have the right personality to run a small business before you start. If you want to be an entrepreneur, you'll need to have most of the following qualities – whether you were born with them, developed them, or are about to start working on them now:
Self-confidence

Knowledge of your goals

Desire and ability to be your own boss

Independence and self-sufficiency

Ability to survive without a social group

Skills for getting along with people and dealing with conflict

Determination and persistence

Self-discipline

Reliability

Versatility

Creativity

Resourcefulness

Organizational talents

Risk-management instincts

Nerves of steel in a crisis

Pick-yourself-up-itiveness

Knack for recognizing opportunities when they come along

Drive to seek out new opportunities

Success-management instincts

Objectivity

Courage to live without a regular paycheque

Good health and physical stamina
5 Great Websites for Setting Up a Canadian Small Business
The Internet provides a wealth of great Canadian resources to help you start, run, and carry on your small business. The following Web sites may be particularly helpful to you.
Canada Business: Get government and general business information on topics such as starting a business, hiring employees, writing a business plan, finding financing, marketing, exporting, and being an employer. There's a CBSC (Canada Business Service Centre) for every province and territory, and they are designed for use by start-up entrepreneurs in any field.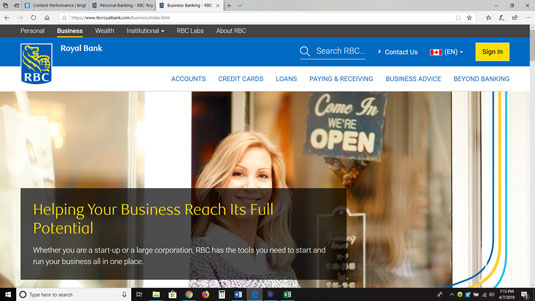 5 Reasons Why Small Businesses Fail
Every year, lots of Canadians get the entrepreneurial urge and start businesses. Some of those small businesses become very successful and profitable. But every year lots of start-ups in Canada fail. Here are some of the key reasons that small businesses fail:
The business is based on an idea that only a mother could love. A business idea may seem wonderful to the business owner, but a business needs a slightly larger market than the owner if it's going to prosper. A business won't last long if it offers a product or service that nobody wants or can afford.
The business is undercapitalized. A business with too much debt will fail, even if it's based on a great idea and is otherwise well run. The business has to make enough money to cover its loan payments as well as pay the owner. If a business doesn't repay its loans, its creditors will pull the plug. Cash is king.
The business doesn't keep the customers happy. A fantastic business concept and good advertising may get the customers in the door — once — but it takes excellent customer service to keep customers coming back. Dissatisfied customers don't pay their bills, won't return, and won't refer other customers. Without customers (who pay) the business will fail.
The business doesn't change with the times. A business must be able to adapt — what worked in the past may not work in the future. A business that doesn't respond to the changing marketplace may find that there is no longer a market for its product or services, or that its customers have gone over to the competition.
The business expands unwisely. Some unprofitable businesses expand in the hope that doing more business will increase profits — but expanding an unprofitable business just creates a bigger unprofitable business. And even a successful business that expands without proper planning may lose its core customers because it can no longer serve them properly, or may not generate enough new customers to cover the cost of financing the expansion.