How to Search for an Item on Etsy
How to Search for an Item on Etsy
If you've landed on Etsy with the idea of finding a specific item or certain items that relate to a particular theme — say, aardvarks — you'll be grateful for the site's robust Search tool. With the Search tool, you can search for handmade items, vintage items, and supplies. You can also use it to locate a particular shop, and to search among items and shops you've hearted.
To use the Search tool, follow these steps:

1

From Etsy's home page, type a keyword or phrase in the Search field, located in the center of the header bar.

As you type your keyword or phrase, Etsy displays Search Suggestions — that is, links for items, sections, or shop names that may constitute a good match. Etsy culls these suggestions from recent searches performed by other folks on the site. If one of these Search Suggestions matches what you're looking for, simply click it to view a list of relevant items.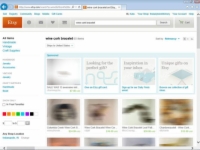 2

Click the Search button or press the Enter or Return key on your keyboard.

Etsy returns a list of items that match your criteria.
3

If you want, sort the search results by clicking the Sort By down arrow and choosing Most Recent, Relevancy, Highest Price, or Lowest Price.

To narrow your search results to handmade items, vintage items, or craft supplies, click the appropriate option button on the left side of the screen. To view only results in a particular category (say, Jewelry), click the category link on the left side of the screen.
4

Click an item in the list to view the item's listing. Alternatively, click the shop name, listed below the item name (next to the price) to view other items in the seller's shop.

If your search efforts fail to yield useful results — for example, Etsy returns too many matches — try these techniques:

To search for a specific phrase, surround it with quotation marks. Suppose that you want items related to the movie Roman Holiday. Searching for the phrase Roman Holiday, without quotation marks, returns pages that contain the phrase Roman Holiday. It also returns pages that contain the individual words Roman and holiday. Enclosing the phrase in quotation marks ("Roman Holiday") limits the results to pages that contain that phrase only.

To exclude pages with a certain word from your results, precede the word you want to exclude with a hyphen. For example, suppose that you want to find listings that pertain to mustangs (as in, the horses). To omit listings that relate to the Ford Mustang automobile, you could add -Ford to the search string. (Note: There is no space between the hyphen and the word.)

Searching is great when you have some idea of what you're looking for. But what if you just want to poke around the site? In that case, you'll enjoy Etsy's many browsing-related features. These include Browse Pages, Categories, Handpicked Items, Recently Listed items, Colors, Treasury, and Shop Local. You can access these tools from Etsy's home page.