How to Contact Etsy Support
How to Contact Etsy Support
Suppose that you have a problem with your Etsy account. Or maybe you need help with a transaction. In either case, you can send a message to Etsy Support right from the Help page. You can also send a message to Etsy Support to notify that group of a problem on the site. Here's how: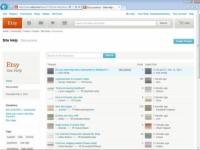 1

While logged in to your Etsy account, click the Help link that appears along the top of any Etsy page.

The Help page opens.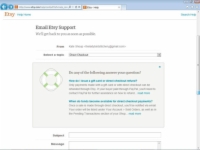 3

Click the Select a Topic drop-down arrow and select a category.

Choices include categories that pertain to account settings, setting up your shop, seller tools, listings, payment methods, troubleshooting, Direct Checkout, and more.

Etsy displays a list of articles that may help to answer your question. Click one to read it. Otherwise, continue to the next step.
4

Type a subject for your message in the Subject field.

Being clear about the problem in the Subject field will help Etsy answer your question.
5

In the Message field, type your message.

Optionally, you can attach a file; to do so, click the Choose a File button, and then locate and select the file that you want to attach.

For example, if you're experiencing a problem with your shop page, you might capture a screen shot of the page and attach that image file to your message.