Lead-Generation Strategies: Direct Mail Creative Execution
Lead-Generation Strategies: Direct Mail Creative Execution
The key to a successful direct mail campaign is creative execution: in other words, what your direct mailer looks like. Think outside of the box for your direct mail pieces, have an eye-catching design and theme, and don't be afraid to use some mixed media by sending out packages instead of postcards. And because you are hopefully sending out your direct mail pieces to a targeted list, you can get a bit more creative and have a bit of a higher budget to make your mail pieces really pop.
Choosing the right medium
Most marketers think of direct mail in terms of only a 4 x 6 postcard. And yes, this could work, but have you thought about all the other forms direct mail can take?
To illustrate the point, check out these truly creative and inventive non-postcard direct mailers. These pieces have a theme and are highly memorable to the leads who receive them.
The following figure shows an example of a Cox Business campaign sent from a sales rep when a new lead enters their system. This package includes a postcard with a three-dimensional hand that pops out and reads, "Nice to meet you." The outside of the card has the name of the sales rep. Cox also includes a coffee cup that says, "Find out how we can perk up your business," and a Starbucks Via coffee packet. Cox hits the nail on the head with this campaign. It not only has that personal feel but uses a different medium and includes a functional element — the cup and the coffee.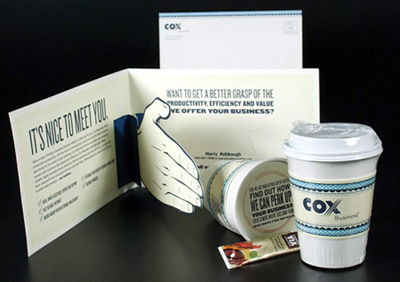 Another great campaign is Infinity Direct's marketing apothecary bag piece, shown in the figure below. As a marketing agency, they needed something that appealed to marketers, so they took a creative approach by sending a 3D pop-out apothecary bag that included "marketing malady cures" such as "Functional Blog Balm" with directions like "Use for treatment of tight deadline syndrome." They also included a PURL for a personalized landing page.

The campaign in the following figure was sent by advertising agency Publicis to clients to let them know that in lieu of a holiday gift, they had donated to a local food bank in their names. They sent each client a customized paper plate that included information about the donation. The interesting angle? The paper plate, of course!

Avoiding the junk mail look
It's important to avoid a junk mail look when working with direct mail. People hate junk mail, and there are a ton of vendors out there sending busy, overloaded junk mail pieces. And what happens to these gems? They end up in the garbage. So make sure that your mail piece doesn't look like junk mail — which is achieved by clever creative, good targeting, and strong, clear call-to-actions.
What are some don'ts when it comes to direct mail? Here are two important concepts to keep in mind.
Don't use gimmicky language: Stay away from a ton of copy on your direct mail piece that says "Free," "No Gimmick," "Pre-Approved," and so on. This type of language is a junk mail red flag.

Stay away from a busy design: Marketers sometimes think the more they can jam on a direct mailer, the better, but in fact, the exact opposite is true. Your mailer should have a clean, streamlined look and be well-designed. A busy design looks like you threw it together in Microsoft Paint and printed it out yourself.
The following figure shows an example of two direct mail pieces that could easily be construed as junk mail. They break the two golden rules by using busy design and lots of gimmicky language.