GoToMeeting is fast becoming a favorite tool for teleconferencing, online meetings, and even sales demonstrations. GoToMeeting is extremely flexible. It can be used from any browser as well as most mobile devices, and with or without a camera. GoToMeeting offers a ton of great features, too, even in the free version. The professional versions offer even more powerful tools.
GoToMeeting is especially convenient for companies that have employees virtually all over the place, because it's easy and super cost-effective to convene everyone via an online seminar instead of flying them all to headquarters for that big annual meeting.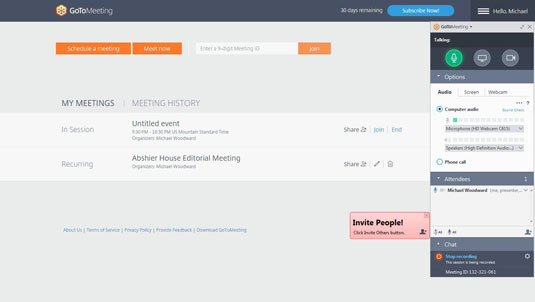 Source: GoToMeeting.com
With GoToMeeting, you can schedule, host, and record online meetings and webinars. The free version is fully featured, but only lets you connect to two additional people. (For some situations, that's perfectly fine.) Like most commercial web-based services, tiered pricing brings with it various features, depending on what you're willing to pay. The top-tier version will accommodate up to 100 attendees.
The core features of GoToMeeting include
High-definition video conferencing: GoToMeeting is more than just audio conferencing — if you have a webcam, you can be seen and heard. This is often a great advantage when you're making a sales pitch or having an important and possibly sensitive or otherwise intense discussion.

Toll-free numbers available: For those phoning in, you can provide toll-free numbers to eliminate long-distance fees for attendees.

Share what you see: Share the contents of your screen or desktop while you discuss. Show several different windows, or just one full-screen.

If you have two monitors attached to your PC, you can share one with attendees and use the other to administer the meeting or prepare what you want to show next.

Multiple meeting facilitators: More than one person in charge of the meeting? No problem. You can share or turn over control of the meeting administration to another user.

Share keyboard and mouse control: As the meeting organizer, you can give another user control of the mouse and keyboard, but retain general meeting administrator control.

Record the meeting: If someone misses the meeting, they can play it back at a later time as an MP4 or WMV file.

Drawing tools: You can draw and highlight items on the screen during the meeting using the drawing tools.

Access meetings from most popular platforms and mobile devices: Mac, PC, Chromebook, Linux, iOS, and more

Use add-ons and plug-ins to manage meetings using Outlook, Google Calendar, iOS calendars, and other popular devices and apps: Set up the meeting and invite people just like any other meeting on your calendar. When it's time for the meeting, just open the event on your calendar, click the GoToMeeting button, and away you go!
Source: GoToMeeting.com
Citrix, the company that makes GoToMeeting, also offers GoToTraining and GoToWebinar. These two paid programs are similar to GoToMeeting, but they offer additional features not available in GoToMeeting.
GoToWebinar offers all the features of GoToMeeting plus attendee registration features, as well as in-session tools such as live surveys and polls — great for brainstorming and consensus-building across the miles. You can buy monthly service to host unlimited meetings for up to 100, 500, or 1,000 participants.

GoToTraining has even more powerful features. Most notably, you can create a full catalog of courses to offer students, and you can collect payment for the courses as well, store class materials for downloading, and more. Entrepreneurs can launch their own online training business, hosting classes in person and using GoToTraining as the classroom interface, or hold classes virtually without overhead expenses of classroom space.
All three versions of this conferencing tool are reliable, and really easy to use for even the busiest people. You can try any of them for free for 30 days, and customer support is available around the clock. If you have questions about which version you might need, Citrix offers online chat and an 800 number to talk to a sales person or get a demo.
About This Article
This article can be found in the category: