In Smartsheet, you can link cells between multiple sheets, which comes in handy if you need to create a roll-up report — that is, a sheet that presents an overview of several other sheets. For example, say you want to present an overview of major project milestones from several different projects. In your overview sheet (also known as the destination sheet), you can link cells to certain tasks, start and end dates, and % completed in your project sheets.
If you have data already in the destination sheet's cells, that data will be overwritten by the data that you're pulling in through linking. This may come into play if you link to a range of cells and don't have enough blank cells in your destination sheet to accommodate the data.
Here's how to link cells:
Log in to Smartsheet and open your destination sheet.

Right-click on a cell and choose Link from Cell in Other Sheet.

Alternatively, you can click the cell and click the Cell Linking button on the left (the one that looks like a chain link).

In the Link from Cell in Other Sheet dialogue box (see Figure 1), choose the sheet you want to link to on the left. That sheet displays on the right.

Click the cell to which you want to link.

Click Create Link.
You see the data from the cell appear in the destination sheet's cell. You'll notice that a blue, left-pointing triangle appears in that cell, which indicates that the cell has incoming data. If you go to the sheet you linked from, you'll see a black, right-pointing triangle in the cell you linked from, indicating outgoing data.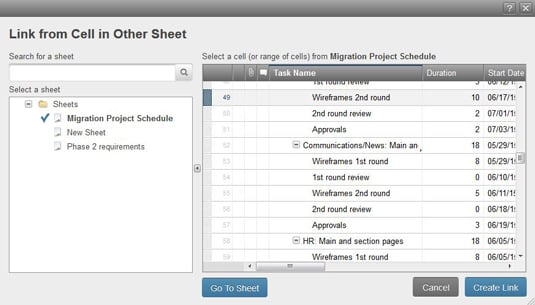 Figure 1: Link to a cell in another sheet.
Source: smartsheet.com
Because the cells are linked, any changes you make to the cell you're linking from are reflected in the destination sheet.
Click a linked-to cell to show which sheet you're pulling that data from. You can also delete a cell link by clicking Delete next to the source sheet's name. Doing so terminates the link, but the contents of the cell remain. If you want to clear the cell's contents after terminating the link, click the cell and hit the Delete key.
About This Article
This article can be found in the category: