The nice thing about Office 365 is that it lives in the cloud and is very flexible. You can migrate small trial runs of data to a trial Office 365 subscription and figure out what might go wrong when you migrate the entire organization. In fact, you should sign up for an Office 365 trial right now.
The trial is absolutely free, and you can be up and exploring the product in a matter of minutes.
In the past, it was difficult to gain access to enterprise software, such as SharePoint, because it took an astute tech person to set up the environment. The tech person had to find hardware capable of running the software and then install the operating system, all supporting software, and finally SharePoint.
Even if everything went as planned, the process took at least a half day and possibly a lot longer. With Office 365, you, as a business user, can go straight to the Office 365 website, sign up for a trial, and explore SharePoint in a matter of minutes!
Activate licensing when you migrate to Office 365
The process for assigning and activating licensing varies slightly, depending on whether you are using the P plans or the E plans. To add licensing, you need to add users to the plan by clicking on the Users tab.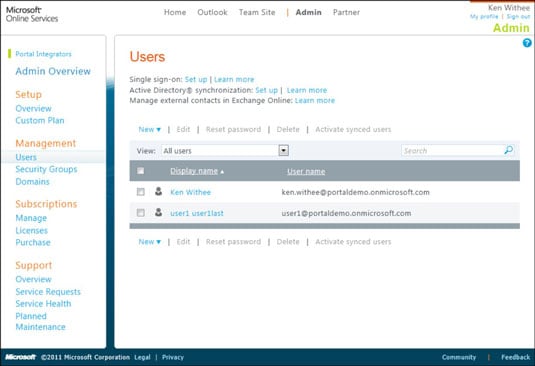 You begin the process of adding a user by selecting the New→User button from the Ribbon of the Users screen. As you walk through the wizard, you are asked to enter information, such as the users first and last name and administrative rights the user should be assigned. In addition, you have the opportunity to assign specific licensing to the user.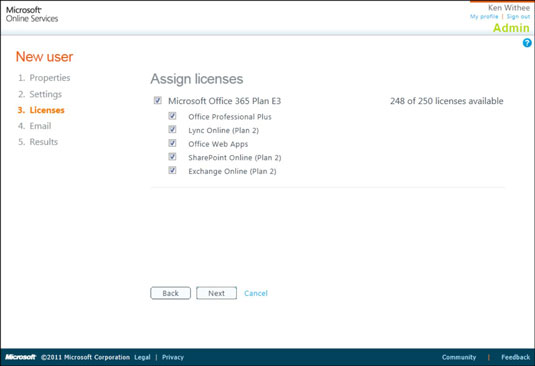 Migrate mailbox data (Exchange) to Office 365
One of the most visible aspects of an Office 365 implementation is the migration of e-mail data into the Exchange Online system. To begin a migration, you use the E-Mail Migration page. You can access this page by clicking the Manage link under the Exchange Online section on the main Office 365 management page and then clicking the E-Mail Migration button.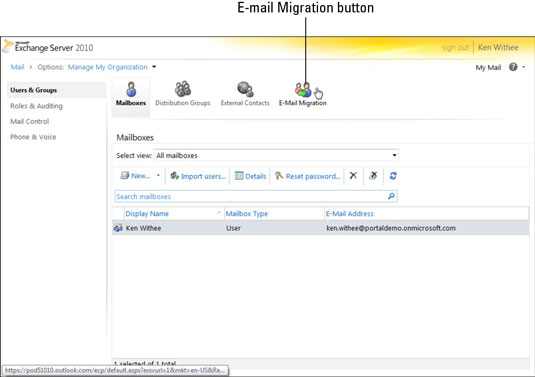 To begin a new migration, click the New tab to begin walking through the Migration wizard. The Migration wizard will let you migrate your Exchange settings. If you are migrating from Exchange 2007 or later, the wizard will use Autodiscover to autodetect settings. If you are migrating from Exchange 2003 or IMAP, then you need to enter the settings manually.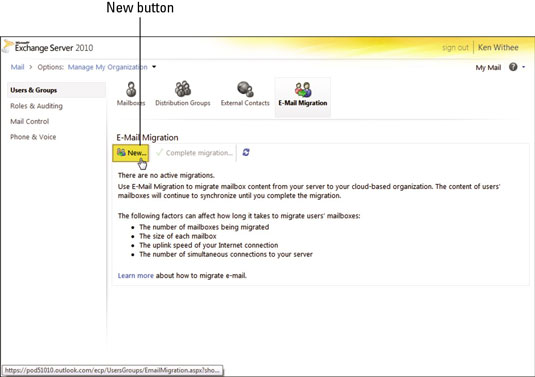 After completion of a migration, user e-mail will be available in the Office 365 system.
A number of other tools and partners are available to assist in e-mail migration. Find these resources in the Office 365 Marketplace.
About This Article
This article can be found in the category: