A site collection is a container for multiple sites. SharePoint allows organizations to delegate different levels of administration. For example, you might be a site collection administrator, and there might be an administrator for each site. This delegation of duty is important for offloading the work required to keep a large number of websites running smoothly.
The Site Collection Administration section of the Site Settings page is used to administer the overall site collection. The result is that any changes made to these settings pages affect all sites in the site collection. In addition, you can activate or deactivate a feature here to make it available or remove it from all the sites in the collection.
The next step up in administration from site collection administrator is SharePoint farm administrator. A SharePoint farm administrator uses a tool called Central Administration, and the changes they make at the farm level affect all site collections in the SharePoint farm.
In order to see this section, you must be a site collection administrator.
There are over 30 links to settings pages in the Site Collection Administration section. Most of the links are similar in nature to the Site Administration section but affect all sites in the collection and not just the current site.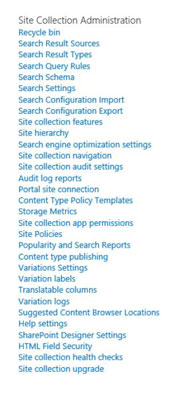 About This Article
This article is from the book:
This article can be found in the category: