Datasheet views are great for performing bulk updates on items and document properties in SharePoint 2013. A Datasheet view displays app data in a web-based spreadsheet in SharePoint.
With Datasheet views, you can
Support most column types including Text, Choice, Date, Number, and Lookup columns. Datasheet views don't display with Multiple Lines of Text columns. Additionally, not all column features work as expected in a Datasheet view. In short, when Datasheet views work, they work great. You just have to test your column types before getting overly ambitious.

Use the arrow keys to move around in the view like a spreadsheet.

Copy and paste values, which is another great way to make bulk updates to an app. This approach is often used instead of importing a spreadsheet as a custom app.

Choose View App Data in a Datasheet view on the fly from any Standard view by clicking the Quick Edit button on the List tab of the Ribbon.
You create a Datasheet view just like you create a Standard view, although you have fewer configuration options. You can sort, filter, display totals, and set the item limit on Datasheet views.
If a column can't be edited because of the column's data type, the contents of the cell turn gray when you click in the cell to edit the data.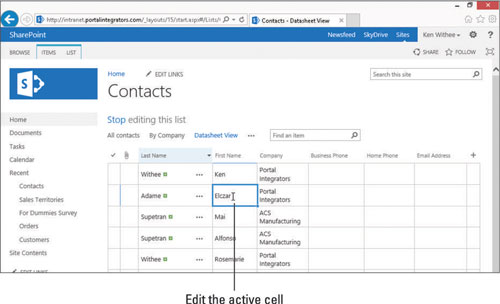 Depending on which Office applications you have installed, you may be able to access additional options for managing app data in Datasheet view. You can access these options in the Connect & Export section of the Ribbon. Notice you can connect the app to Outlook, export the data to Excel, and open the app with Access or Project.

About This Article
This article is from the book:
This article can be found in the category: