Configuring current navigation settings for each SharePoint site is similar to global navigation. You have the same options to automatically show pages and subsites in SharePoint.
You have these options to determine what items appear in the site's current navigation: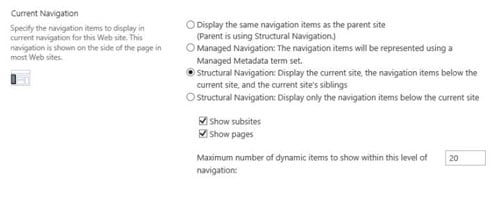 Display the Same Navigation Items as the Parent Site: This option displays the current navigation items using the settings of the parent site.

Managed Navigation: This option enables you to manage navigation using a set of terms you define called Managed Metadata. When you select this option, your site will show sites and subsites based on the terms you have defined and not the subsites and pages in the site. When you select the Managed Navigation option, the option to show subsites and pages disappears.

Structural Navigation: This option gives you the choice to display subsites and pages below the current site.
Choosing the Show Pages and Show Subsites options in the Global Navigation section makes navigation items show for pages and subsites in the top navigation. Choosing the Show Pages and Show Subsites option in the Current Navigation section shows the navigational links in the left navigation.
About This Article
This article is from the book:
This article can be found in the category: