Accessing a site that is hosted in SharePoint Online, part of Office 365, may be a little different than sites that are hosted on your network. You may access your site through the main Office 365 portal URL.
Depending on how your company has configured its connection with Office 365, you may not be prompted to log in to Office 365. However, most small to medium companies don't bother integrating their logins, so you will probably have to use your Office 365 username and password, which will be different from your account for your internal network.
Single sign-on is the name of the technology that enables your internal network login to be integrated with Office 365. As the name implies, you only have to sign in to the network once to access all network services, regardless of where those services live.
When coming to the login screen for Office 365, you may want to select the Remember Me and Keep Me Signed In check boxes so you aren't prompted continuously to log in to Office 365. You still get prompted occasionally to change your password or verify your password.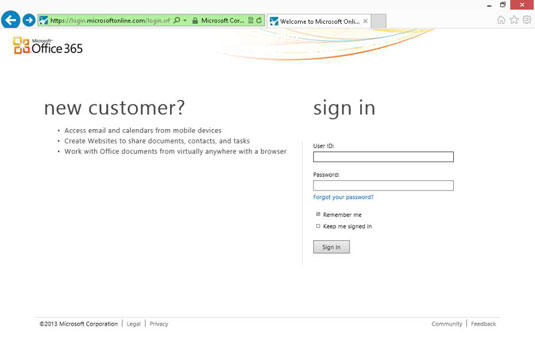 The Office 365 main portal page is for a user who has access to all the features of Office 365. In addition to SharePoint Online, it includes Exchange Online, Lync Online, and Microsoft Office 2013 Professional Plus. If your subscription only covers SharePoint Online, you don't see these other options.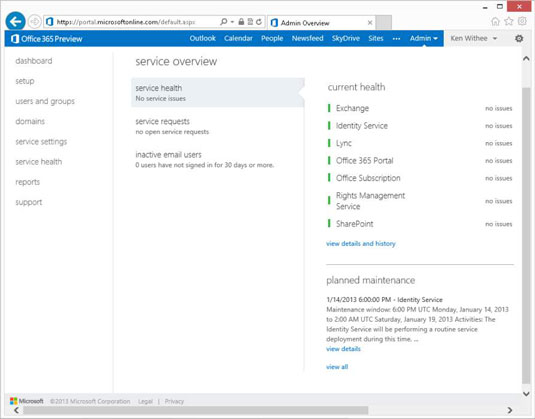 You can click the Team Site link at the very top of the page or the Visit SharePoint Home link under the Team Site heading to reach your company's default team site. Alternatively, your administrator may give you the direct link to your team site. You still have to log in to Office 365 if your company doesn't have the logins integrated.
About This Article
This article is from the book:
This article can be found in the category: