Allowing a site's content structures to inherit permissions from the SharePoint site is usually sufficient. Don't try to secure everything individually. But at times, you need to secure a folder in an app or limit access to an app. You may want to delegate ownership of an app, thus pushing administrative responsibilities for the app to an app administrator.

To manage permissions, the user must have the Manage Permissions permission. You must be a member of the Hierarchy Managers group to edit permissions.

To create unique permissions for an app, follow these steps:
Browse to the app, click the Library or List tab of the Ribbon, and click the Library or List Settings button in the Settings group.
Click the Permissions for This Document Library link in the Permissions and Management section. The Permissions page appears.
Manage the permissions as you would for a subsite by breaking inheritance and managing the permissions uniquely for the list. Managing permissions on apps is the same as managing permissions for subsites.
You can also give unique permissions for an individual document, folder, or list item. You do this by sharing the particular item with a person and selecting their level of permissions in the Share dialog box. Accessing the Share dialog box depends on the item you are sharing.

For example, you can share a site by clicking the Share button in the upper right corner of the screen. Alternatively, you can share a document by using the Share button located in the ellipsis next to that document as outlined in the next procedure.

With SharePoint Online, you can even share a document without requiring the other person to log into your SharePoint site.

Follow these steps to give permissions for a document, item, or folder in an app library:
Browse to the app where the item, document, or folder is located.
Click the ellipsis next to the item and click Share. The Share dialog box appears.
Enter the name, email address, or group, and then select the permission you wish to give — Can Edit or Can View.
Click the Share button to give permissions.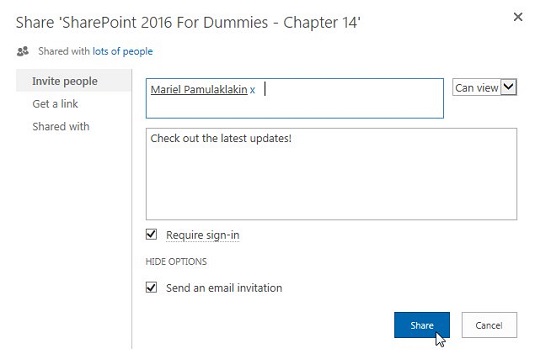 Click Share for a document in a Library app.
For an item in a list app, the process is a bit different. For individual list items, you manage permissions separately in much the same way you would for a subsite. To access the permissions for the individual list item you want to manage, click the ellipsis next to the item and choose Manage Permissions from the Advanced drop-down. However, you cannot share out list items individually like you can actual documents because the list item is part of SharePoint, whereas the document is a file unto itself.
About This Article
This article is from the book:
This article can be found in the category: