SharePoint 2016 provides several preformatted view styles that you can use to control the display of your view. The default view style displays your app data in rows. You can use several additional styles. Many of these are especially helpful in configuring app web Parts:
Basic Table displays app data in a simple table.
Boxed and Boxed, No Labels display items as a series of cards, with or without column labels. This display is similar to the Address Card view in Outlook.
Newsletter and Newsletter, No Lines display a table with a streamlined format.
Shaded displays items in rows, with each alternate row shaded.
Preview Pane displays items on the left and previews the details on the right. This is a great way to display a lot of information in a compact display.
Many users overlook these effective display styles. Again, experimenting is the best way to find out how a display style can improve a user's experience with the data.
Here are the style options you can choose from when configuring your view.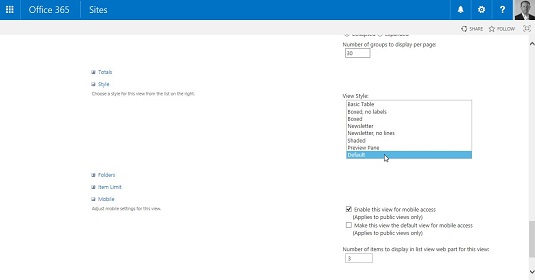 You can change the format of the view.
About This Article
This article is from the book:
This article can be found in the category: