PowerPoint 2013 includes a nifty little feature called SmartArt, which lets you add several different types of useful diagrams to your slides. With SmartArt, you can create List, Process, Cycle, Hierarchy, Relationship, Matrix, Pyramid, and Picture diagrams. And each of these basic diagram types has multiple variations. In all, you can choose from 185 variations.
The diagrams created by SmartArt consist of multiple elements, such as shapes and lines. SmartArt itself takes care of drawing these elements in a coordinated fashion, so you don't have to draw the separate elements manually.
The basic idea behind SmartArt diagrams is to represent bullet lists as a diagram of interconnected shapes. Although many different types of SmartArt diagrams are available, they all work the same way. The only real difference among the various SmartArt diagram types is how they graphically represent the bullets. For example, consider the following bullet list:
Arrive

Work

Lunch

More work

Leave
The figure shows this list represented by a SmartArt diagram. To create this diagram, select the text, right-click, and choose Convert to SmartArt, and then select the Descending Process SmartArt diagram type.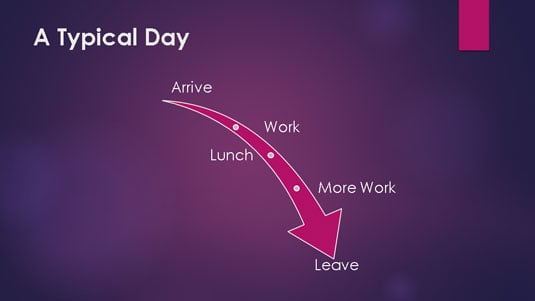 Note that many of the SmartArt diagram types can display two or more outline levels in your bullet list. For example, suppose you have this list:
Arrive

Stop for coffee on the way

Try not to be late

Work

Coffee break at 10:00

Look smart!

Lunch

Best part of the day!

No more than 90 minutes

More work

Coffee break at 2:00

Try to stay awake at 4:00

Leave
The following figure shows how this list appears when formatted as an Increasing Arrows Process chart. As you can see, the second-level bullets are incorporated as text within the diagram.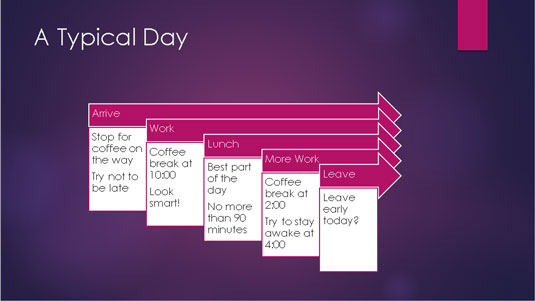 One of the most useful aspects of SmartArt is that you can easily change from one type of diagram to another. Thus, if you decide that a diagram doesn't convey the message you intend, you can try changing the diagram type to see whether the message is clearer.
About This Article
This article is from the book:
This article can be found in the category: