Want an email application that is also a mind reader? Your wish is granted. You can thank Office Graph and Clutter, a new feature in Outlook.

Clutter uses the technology behind Office Graph to analyze the signals you send when you take action on your emails. For example, if you tend to ignore emails from an online shoe store but tend to reply to your manager, Clutter will learn your pattern of behavior. It will start thinking that emails from the shoe store are not as relevant to you, so it will send those emails to the "Clutter" folder so you can focus on the emails that are relevant and important to you. Without any additional actions on your part, your inbox is now de-cluttered. You can also train Clutter to learn your preferences faster by manually moving items in or out of the Clutter folder.

Enabling Clutter does not mean, however, that you will no longer receive Junk Mail; junk is still there. But at least you will not be flooded with a bunch of not-so-relevant emails every day without losing them to junk mail. So if you decide one day to take advantage of a shoe sale, you can always go to the Clutter folder to find the email with the coupon.

You are in full control of Clutter. If you don't want to use it, you can disable it. Here's how:
Log on to Office 365 Portal.
Click on the Settings icon (gear icon on top right).
In the My app settings group, click Mail.
On the left pane, expand the Mail group, then click Clutter.
Untick the box next to Separate items identified as Clutter.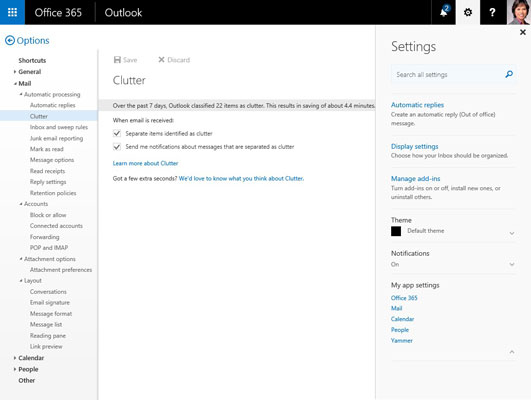 Turning off Clutter.
About This Article
This article can be found in the category: