SharePoint in Microsoft's cloud-based solution to collaboration. Microsoft SharePoint is a prime example of just how far we've come with using technology to improve teamwork and communications. In 1971, computer engineer Ray Tomlinson sent the first email between two computers set side by side. When asked what prompted him to develop such breakthrough technology, Tomlinson's response was, "mostly because it seemed like a neat idea."

More than 40 years later, and over 269 billion emails sent and received per day in 2017 alone, that neat idea is due for an upgrade. In today's world, where information workers no longer are sitting beside each other but spread out across multiple geographies and time zones, email simply isn't enough to ensure real-time collaboration, self-service information gathering, and robust knowledge management solution.

While email will continue to serve the needs of one-to-one communication and calendaring, SharePoint Online serves as the platform for team-focused and project-focused collaboration needs. The intranet capabilities in SharePoint deliver collaboration capabilities in a way that harnesses the collective knowledge of the people in the organization to not only inform and engage employees but also to transform business processes.
Touring the SharePoint landscape
SharePoint Online connects the people in your workplace with an intelligent content management solution that drives productivity while keeping your data secure. It is a cloud-based solution that is one of the services in Office 365. Also under the SharePoint umbrella is SharePoint Server, which is a solution similar to SharePoint Online, but it requires buying and maintaining server hardware, installing the software, keeping software or operating system up to date, and hiring people to manage the technology and troubleshoot issues. In SharePoint Online, these tasks are handled by Microsoft.
Getting to know the SharePoint personas
While SharePoint provides a platform for everyone in the organization to share and work together, there are four types of personas who use, interact with, and benefit from SharePoint.
End users: If you access your organization's portal or intranet on SharePoint to read announcements or any type of communications, you're an end user. The same is true if your project team uses SharePoint for collaboration.
Admins: As you become familiar with the features and functionalities of SharePoint, you may become a super end user and take on administration responsibilities, such as the following:

Site collection admin: This role is responsible for an entire site collection, which may have many SharePoint sites. A site collection admin can control which features are available for the site collection, including workflows, custom branding, and search settings.
Site owner: When you create a new site from the Sites page, you automatically become the site owner. As a site owner, you can provision sub-sites, manage permissions for the site, change the look and feel, and enable or disable site features according to what's available from the site collection, and more.
IT professionals: SharePoint has built-in capabilities that cater to professionals in an IT department or IT consultants who serve the needs of their clients. Typically, these IT professionals administer SharePoint Online to ensure the technology meets business needs. They can act as the system or SharePoint admin with access to the SharePoint Admin Center in Office 365 where they configure SharePoint settings, such as

Enabling/disabling Yammer as the enterprise social collaboration solution
Allowing external sharing of SharePoint sites
Configuring compliance and data loss prevention policies
Restoring deleted sites
Developers: These are the technical people who create applications and customizations to extend SharePoint functionalities beyond what Microsoft offers. SharePoint has rich features for the hundreds of thousands of developers focused on this platform. There's even a marketplace for these developers to publish and sell their apps and solutions: the SharePoint Store.
Landing on the SharePoint Online home page
SharePoint Online lets you share knowledge, content, apps, and rich, interactive news to a broad audience within your organization. At the heart of the ability to inform and engage employees is the foundational technology that delivers beautiful, modern, and mobile-friend sites and pages.

The SharePoint Online home page gives you a quick list of all the sites you belong to and are following on the left pane. The middle pane displays a card-style list of the latest news in your organization culled from all the sites you have access to as well as a list of the sites you frequently visit.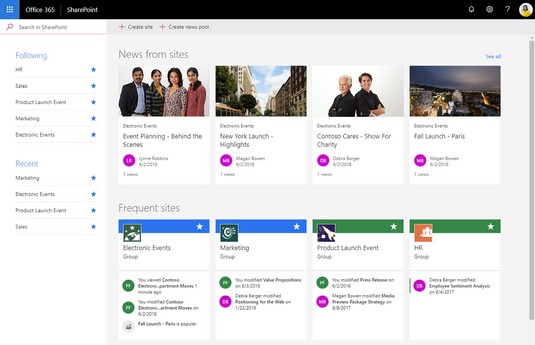 The SharePoint Online home page.
To access the SharePoint Online home page, follow these steps:
Log in to Office 365.
Click the app launcher (the icon that looks like a waffle in the top left corner).
Click SharePoint from the list of tiles.
Be careful what you share on SharePoint!
SharePoint sites and their content can be shared with users outside your organization through a functionality called external sharing. By default, external sharing is enabled in SharePoint Online. This means that all sites created from the Sites page can be shared with external users. The Office 365 Global Admin can disable this feature globally for the entire SharePoint Online environment or enable/disable any individual site collection.

External sharing is handy when you want people you work with who don't have an Office 365 license (referred to as external users) in your organization to collaborate with you. For example, if you are running a marketing campaign and you're working with an ad agency, you might want to give your contacts in the ad agency access to your project site in SharePoint so you can co-author documents.

External sharing can also pose a potential for data leakage, so be careful what you share!
About This Article
This article is from the book:
This article can be found in the category: