Microsoft is eager to get your feedback on Office Online and other services. If you would like to help improve Office, there are many ways to make your voice heard.

In Office Online, at the bottom right of the screen, you will see a link that says HELP IMPROVE OFFICE. Clicking on that link will open a quick feedback form, which you can then submit.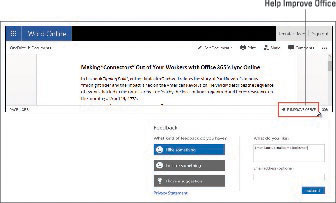 Help Improve Office feedback form.
If you want to actively engage with other users who are providing feedback to Microsoft, you can also visit the following forums:
About This Article
This article can be found in the category: