The new E5 plans for Office 365 take Delve to an even higher level of productivity by providing you with numbers that enable you to make decisions to drive work/life balance, enhance your engagements, and make sense of your time and relationships.

Delve Analytics is an interactive dashboard that tells you how you spend your time in your organization, who you spend it with, and how you're doing related to your goals. You can then use these insights to take control of your time and interactions to improve efficiency and productivity.

This figure shows the example of Jenn Reed, who is a Senior Product Marketing Manager. From her dashboard, she is able to see how she spent her time over the course of a week based on a 40-hour work week on a 9 am to 5 pm schedule. From the dashboard, she can set her own goals and prioritize her time at work, based on the insights presented to her.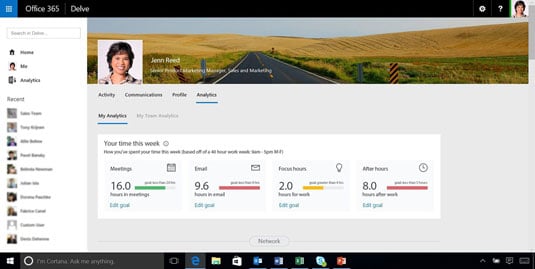 Jenn's Delve Analytics dashboard.
As Jenn scrolls down the page, she also sees metrics in the Network section that tells her who her top collaborators are, people she needs to get in touch with, and even some insights into how she interacts with her manager (shown here).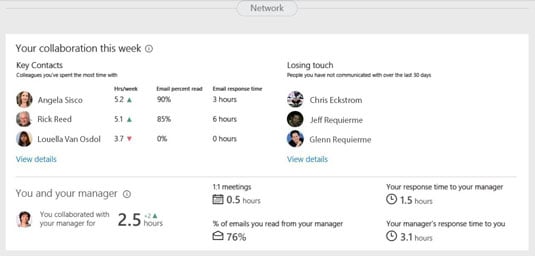 Jenn's network.
As Jenn scrolls further down, the Email Etiquette section displays the read rate of her emails, as well as the read rate of emails sent to her.
With her personal dashboard, Jenn now has the ability to set and track specific goals to help her become more productive at work.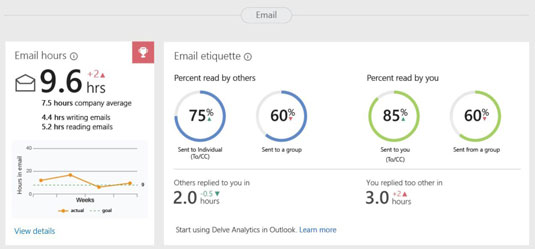 Jenn's email etiquette.
About This Article
This article can be found in the category: