Groups in Office 365 provides a single hub where project team members can collaborate securely and efficiently. If you've ever taken a stretch assignment to deliver a project (either as a contributor or a leader), you know it can be challenging to keep up with the project-related emails, meetings, conversations, calls, and documents.

When you create a Group, a shared mailbox is also created, so you can keep all your group emails in one place. You'll also get a shared calendar, cloud storage in OneDrive for Business, and a notebook. Groups is designed for mobile experiences so you can participate in discussions and collaborate with team members on iOS, Android, and Windows devices.

Conducting team discussions in Groups is like having a social networking experience. You post content, and others can like or reply to it. The conversation is sorted from oldest to newest; if you're a new team member, you can quickly catch up with the goings on and read conversations before you joined the group. The figure illustrates how team members collaborate in Groups.

Creating Groups is easy: Click the + Create button below Groups, then follow the prompts. Members you add to the Group during the creation process will receive a welcome email as soon as the Group is provisioned (usually within a few minutes).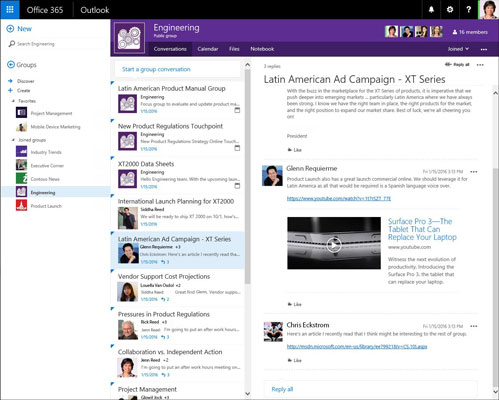 Conversations in Office 365 Groups.
When you're subscribed to a Group, you get an email to your mailbox every time someone posts or replies to a conversation. When you reply to the email from Outlook, your reply is posted in the Group conversation. If the volume of emails is too much, you can unsubscribe from the email notification (click the unsubscribe link at the bottom of the group email message).
About This Article
This article can be found in the category: