Near the top-left corner of the Excel 2010 window, you find the green File tab, which provides access to Backstage view. The File tab replaces the Office button (or File menu) in previous versions of Excel and also includes commands new to Excel 2010.
The new Backstage view contains all the document- and file-related commands, including Info, Save, Save As, Open, Close, Recent, New, Print, and Save & Send. Additionally, there's a Help option, an Options item that enables you to change many of Excel's default settings, and an Exit option to quit the program.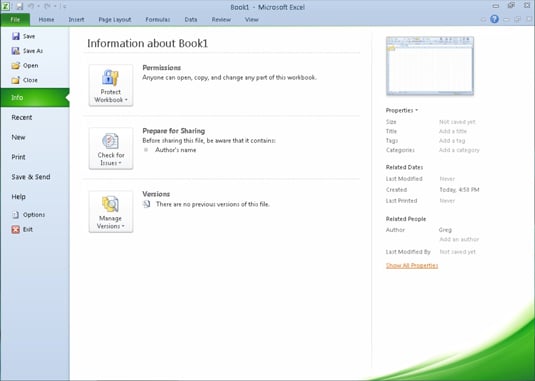 Open Backstage view to access file-related commands and modify program options.
When you click File to access Backstage view, the Info option displays at-a-glance stats about the Excel workbook file you have opened and active in the program.
This Info panel is divided into two panes:
The pane on the left contains large buttons that enable you to modify the workbook's permissions, distribution, and versions.

The pane on the right contains a thumbnail of the workbook followed by fields that detail the workbook's Document Properties, some of which you can change (such as Title, Tags, Categories, and Author), and many of which you can't (such as Size, Last Modified, Created, and so forth).
Above the Info option, you find the commands (Save, Save As, Open, and Close) you commonly need for working with Excel workbook files. Near the bottom, the File tab contains a Help option that, when clicked, displays a Support panel. This panel contains options for getting help on using Excel, customizing its default settings, and checking for Excel 2010 program updates. Below Help, you find options that you can select to change the program's settings, along with an Exit option that you can select when you're ready to close the program.
Click the Recent option on the File tab to continue editing an Excel workbook you've worked on of late. When you click the Recent option, Excel displays a panel with a list of all the workbook files recently opened in the program. To re-open a particular file for editing, all you do is click its filename in this list.
To close the Backstage view and return to the normal worksheet view, you can click the File tab again (or any Ribbon tab) or simply press the Escape key.
About This Article
This article is from the book:
This article can be found in the category: