Excel offers several methods for getting your Access data into your Excel data model for your reports and dashboards. For simplicity, you just can't beat the drag-and-drop method. You can simultaneously open an empty Excel workbook and an Access database from which you want to import a table or query. When both are open, resize each application's window so that they're both fully visible on your screen.
Hover the mouse pointer over the Access table or query you want to copy into Excel. Now click the table and drag it to the blank worksheet in Excel, as illustrated here.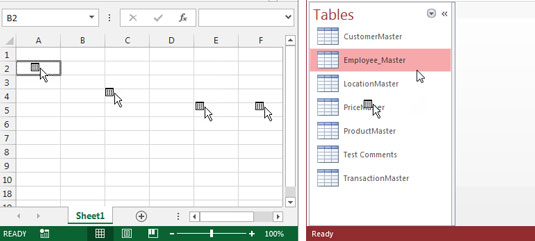 Copy an Access table using the drag-and-drop method.
The drag-and-drop method comes in handy when you're doing a quick one-time analysis in which you need a specific set of data in Excel. However, the method isn't so useful under the following conditions:
You expect this step to occur routinely, as part of a repeated analysis or report.

You expect the users of your Excel presentation to get or update the data via this method.

It's not possible or convenient for you to simply open up Access every time you need the information.
In these scenarios, it's much better to use another technique.
About This Article
This article is from the book:
This article can be found in the category: