Excel 2010's AutoCorrect feature already knows to automatically fix two initial capital letters in an entry, to capitalize the names of the days of the week, and to replace a set number of text entries and typos with particular substitute text. But you can use AutoCorrect to alert Excel to your own particular typing errors and tell the program how it should automatically fix them for you.
You can add to the list of AutoCorrect text replacements at any time. These text replacements can be of two types: typos that you routinely make (along with the correct spellings), and abbreviations or acronyms that you type all the time (along with their full forms). Follow these steps:
Click the File tab and then click Options.
The Excel Options dialog box appears.
Click the Proofing tab.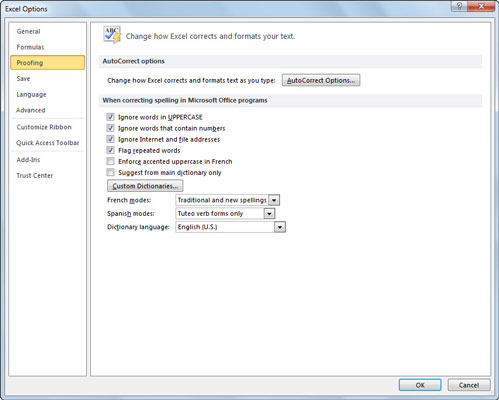 The Proofing options appear in the right pane.
Click the AutoCorrect Options button.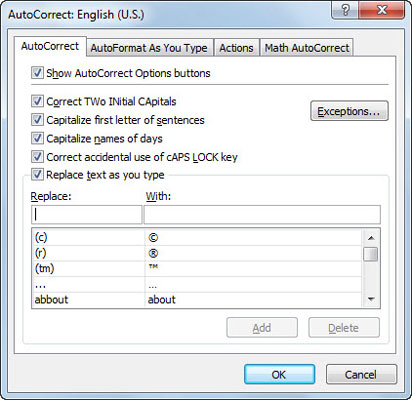 The AutoCorrect dialog box appears.
Select the Replace Text as You Type check box.
This check box is usually selected by default.
On the AutoCorrect tab, enter the typo in the Replace text box.
You also can enter an abbreviation here. Be sure that the text you type in the Replace box of the AutoCorrect dialog box isn't a real word! Otherwise, you may unintentionally replace a commonly known word with other unwanted text.
Enter the correction in the With text box.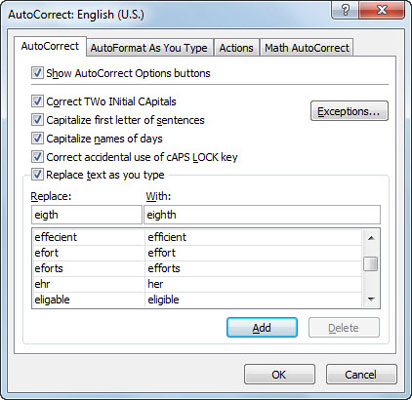 If you entered an abbreviation in the previous step, enter the full form of the text here.
Click the Add button and then click OK two times.
The new typo or abbreviation appears in the AutoCorrect list and both dialog boxes close.
About This Article
This article is from the book:
This article can be found in the category: