Above all else, remember that Twitter is a public forum. Even when you're talking to your trusted Twitter network, your Tweets are very much public; Google and other search engines still index them, and anyone on the web can link to them.
You can adjust your settings to prevent search engines and the occasional passerby from viewing your updates by protecting your account.
All the public exposure that Twitter offers can really help promote you and your business, but that exposure also comes with some responsibilities:
Use common sense. Don't publicly tweet or @reply someone your address, phone number, or other personal details that you should keep private. Send that kind of information via DM or, even better, via email, IM, or phone. Keeping your personal details private protects both you and anyone in your care, such as your kids.

Use DMs cautiously. Typing d username and then your message does send a private direct message from any Twitter interface. If you made a typo or wrote dm username, you would not be the first person to accidentally post a private DM publicly.

In fact, the problem was so rampant that you can use the dm short code to DM someone. But in our opinion, that doubles your chances for a typo. The best way to direct message a user is to simply go to their profile and message them with full confidence.

To avoid accidental updates, make it a habit to use the Message button on a user's page, double-check your d username Tweets before posting, or send DMs. Note that you have to be logged into your account to use that link. You want to be extremely careful if you decide to send sensitive information by DM.

Better yet, use an even more secure medium like email or even encryption. Never send passwords, credit card numbers, Social Security numbers, or other valuable private data by Twitter.

Maintain boundaries. Try to be aware of how you are (or aren't) maintaining boundaries with the people you interact with frequently on Twitter. Especially before you agree to meet someone in person, take a look at how you've interacted in the past and make sure that you've kept your relationship clear from the start, whether it's for business or friendship.
You definitely want to keep some information to yourself when you're tweeting away:
Your home address

Your home or cellphone number

Your kids' real names

Your financial information (such as credit card numbers, your yearly income, and anything else you wouldn't want the whole world to know)

Vital health details (such as diseases you have or a diagnosis you just received — unless you're comfortable with the world knowing about it)

Details about schools and other locations where you or people you know spend time — you never know who might drop in after seeing your Tweet on a Google search
Protecting personal details
Many people opt to not even use the real names of family members or children who don't use Twitter. Twitterers commonly refer to relatives, friends, and kids by nicknames or initials, just to give those loved ones a layer of protection. Use a bit of caution and ask permission before tweeting someone's real name. You can use initials if you want to be safe.
Twitter is a powerful influence on search engines, so casual mentions of unique names remain findable for a long time.
The same words of caution go for any number of personal details. Dive into information about your health or your private life in private conversation. Although being authentic and a little bit personal goes a long way on Twitter, everyone understands that you need a layer of privacy to keep you, your loved ones, and the details about them safe.
Maximizing privacy and safety
After you Twitter for a while, you've given away a lot of information about yourself. If you mention who you spend time with or that you always hang out at a certain cafe, someone can start tracking where you've been and what you're doing.
Whenever you post in a public medium, anyone could go through the information you've published and start piecing things together.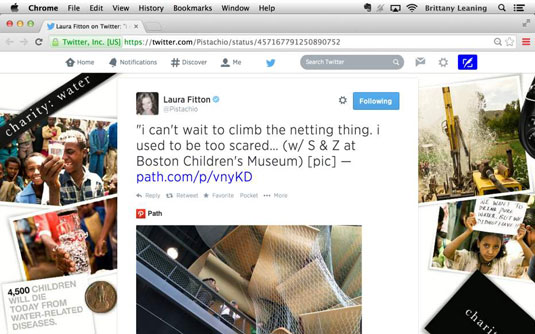 About This Article
This article is from the book:
This article can be found in the category: