One of Twitter's more powerful conversational features is @replies (or @mentions). Tweets that are @replies are public and visible to all Twitter users from your Twitter page, but they are directed specifically to one Twitter user.
To tweet and @reply, hover your cursor over the tweet that you want to respond to and then click the Reply link that appears. Twitter then associates your reply with the original tweet in the Twitter system. The person can see what tweet prompted your reply by clicking the In Reply To link at the bottom of your tweet to him.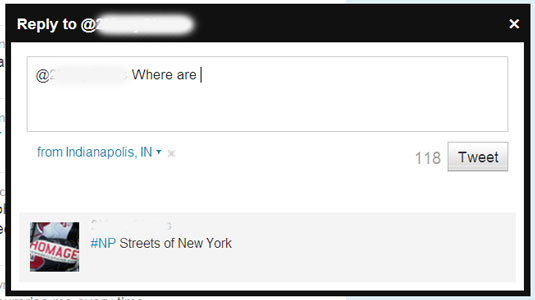 Even though the page is now considered the Mentions page, some Twitterers still call them @replies.
You can send an @reply to someone by just typing the @ symbol and, without a space, his username. Then type your message and click Tweet. If you just do your reply manually (as opposed to clicking the Reply icon on a specific tweet that you want to reply to), your reply won't be linked to any particular tweet. If you really want to reply to a specific tweet, you're usually better off clicking the Reply icon.
If someone opens your Twitter profile page, they can see all your tweets, including @replies. But your @replies will appear in other Twitterers' timelines only if they follow both you and the Twitterer you're replying to.
This restriction applies only to tweets that begin with an @; you can include an @mention later in your tweet and it will be seen by all your followers.
If you want to reply to a particular Twitterer but want all your followers to see it, one convention that many people have adopted is placing a period at the beginning, before the @reply. This will push your reply to all of your followers' timelines.
About This Article
This article can be found in the category: