When you're creating Web pages, you use HTML — a lot! The following sample shows the HTML formatting and codes you use to create headings and titles, lists, lines, and images as well as boldface and italicized type, not to mention how to include a link.








Enter the main heading, usually the same as the title.




Be bold in stating your key points. Put them in a list: 



The first item in your list
The second item; italicize key words
Improve your image by including an image.
Add a link to your favorite Web site. Break up your page with a horizontal rule or two.
---
Finally, link to another page in your own Web site.

© Wiley Publishing, 2011

All this HTML translates to a Web page that looks something like this: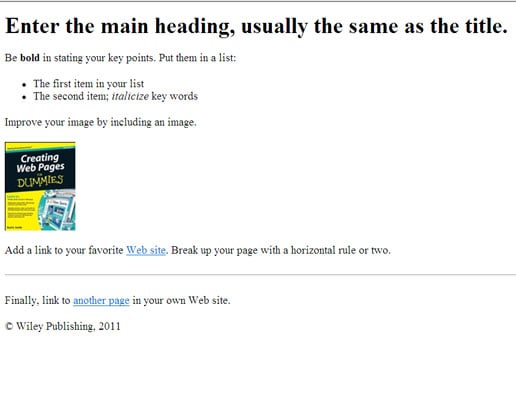 About This Article
This article can be found in the category: