You may notice that bloggers are often worried about branding. Personal branding was not something that bloggers ever considered in the early days of blogging, but now the word branding is used at least as often as one might refer to a blogger's voice or style.

A person's brand refers to how others remember them: their readers, potential clients, fellow bloggers. Brand can include a blog's tagline, a site's logo, a blog's topical focus, and even how readers view the personality of the author. For bloggers looking to establish themselves through an online platform, branding is critical!
Communicate who you are on your blog
Your blog should communicate who you are and what your blog is about to your readers without a lot of digging. Branding also includes consistency of look and feel across your blog and your blog-related social media properties.

Teachmama, the blog of educator and author Amy Mascott, makes it clear to readers that the blog's focus is education. Not only does the blog name, Teachmama, communicate clearly, but the tagline, "learning in the everyday," reinforces that the goal of the site is to share learning tips, tools, and best practices.

Mascott uses that top-of-the-page real estate beautifully to continue to show readers that Teachmama is the home of all things education. The horizontal navigation bar includes these headings: early literacy, reading, writing, math, science, activities, and digital literacy.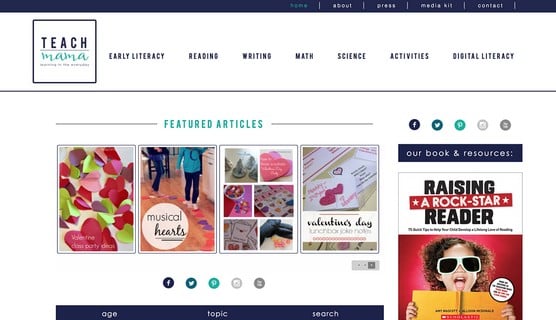 Source:
www.teachmama.com
The carefully branded homepage of Teachmama makes clear the site's focus on education.
Reboot your blog
So what happens if you've created your online brand and then decide that you no longer want to be known as the brand that you've created?

Perhaps you began your blogging life as a parenting blogger with young children, and now that your kids are older, you'd rather write about personal growth or fitness. Maybe you first blogged about education, over the years became a social media expert, and now would like to convert those expertise into speaking gigs.

Some bloggers are even noticed in real life. Your blog's branding can be tough to separate from yourself!

The good news is that possibilities are endless in the online world, and you can absolutely start again should you choose to do so. Many successful bloggers began their career under one name and continued to find success — or even reached new heights — after relaunching under a different name and focus.

Blogger Carol Cain is the perfect example of a wildly successful blog branding reboot. Carol began blogging under the name NYCity Mama during the mom blogging explosion of the early 2000s. While Carol's blog certainly included travel, the brand was decidedly more mom blog than travel blog.

Ready for a reboot, Carol abandoned her NYCity Mama URL and branding and created Girl Gone Travel, a travel industry online authority. So while your blog's brand requires some thought and planning, you can get a second — or third or fourth — chance to decide who you want to be in the blogging world!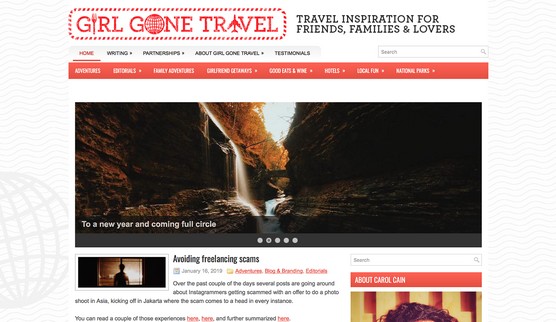 Source:
www.girlgonetravel.com
Carol Cain rebranded as Girl Gone Travel after first blogging successfully at NYCityMama.com.
How to protect your privacy and reputation as a blogger
Your blog might not reflect your employer's viewpoints or your family's, but it certainly reflects your own. Don't forget that what you put on your blog today might stick around for a long time to come and that the reader might not always have your best interests at heart.

Never put any personal identifying information online that exposes you to possible identity theft or physical confrontation. Don't post your Social Security number, home address, birthdate or place, mother's maiden name, passwords, bank account numbers, or any information that you use as password reminders or identifying information with financial institutions.

Most bloggers prefer to keep phone numbers private, as well. Don't reveal this information about the people you blog about, either.

Many bloggers solve these issues by choosing to blog anonymously or by using a handle — a phrase or moniker that doesn't personally identify the writer.

Don't forget that many of your online identities are linked. For example, if you use a nickname when you leave comments on other blogs, and then use that same nickname on a bulletin board or when you sign up for a social-networking service, people can easily connect the dots.

In fact, many of these services already work together. Most social media platforms are now connected. For example, posts on Instagram can also appear simultaneously on Facebook and Twitter. If you identify yourself on any of these sites or tools and then tie them together in some way, others can easily follow the trail to figure out who you are.

Anonymity gives you a great way to protect yourself on your own blog, but it doesn't keep you from showing up on other people's blogs or Flickr photo streams. If your friends and family have blogs, consider setting ground rules with them about situations and topics that you want excluded as subjects on their blogs. Be willing to accept the same kinds of requests about your own blog writing.

One of the best ways to take charge of your own online identity is to start a website or blog yourself. If other people are mentioning you online, having an official website that contains accurate information can help supplant or downplay less desirable material. Take control of your own digital footprint!

If you want to find out more about controlling your online identity or protecting your privacy, review some of these great online resources:

Be who you are, but don't forget to take steps to protect your privacy!
About This Article
This article is from the book:
This article can be found in the category: