When you start a new blog, one of your most important decisions is choosing what blogging software to use. You also need to decide what type of blogger you'll be. Is there a certain niche that would be a great fit to match your interests and expertise? Whether you're a new blogger or looking to switch blogging platforms, the range of blogging tools and options you find here can give you a head start on your search for your blogging software and blog niche match.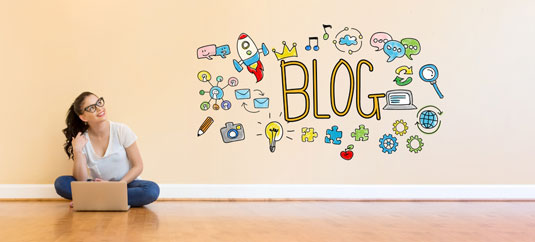 ©By TierneyMJ/Shutterstock.com
Selecting hosted blogging software
When you choose to blog using a hosted blog service, you don't need to worry about the software technology at all. You can concentrate on the topic for your next blog post, rather than on how to configure a web server. To use hosted blogging software, you log into the editing tool, write a post, click the Publish button, and log out.
Extra bonus: If you choose hosted blog software, you don't have to worry about web hosting — the software company is providing that service for you!
What kind of blogger do you want to be?
Congratulations, you've decided that you want to enter the blogosphere and dive into the fun, new hobby of blogging! There are so many steps to follow and processes to understand that you may be feeling a little overwhelmed.
Rather than jump feet first into selecting a blogging platform or designing a beautiful logo, take a moment to get to know some of the different types of blogs that exist. Have you found what niche works for you? Here's an overview of some of the most popular blog types:
Parenting: One of the most popular blogging areas, this niche continues to grow by leaps and bounds and includes both mom and dad bloggers writing about everything from life as a parent to the latest and greatest products for kids.

Hobbies: Are you a knitting genius? Perhaps you've become an expert on the ukulele. Whatever your hobby, why not consider blogging about your experience and joining a large community of other bloggers doing the same?

Technology: Technology blogging is a huge niche — a bit of an oxymoron — because, quite simply, people turn to online sources to learn about the latest technology. Not hindered by publication dates and deadlines as print sources are, technology bloggers are on the cusp of breaking technology news, always able to provide their readers with the latest and greatest.

Politics: If you feel passionately about politics and don't mind engaging in an intense debate, political blogging may be for you. Prepare to grow your readership quickly and respond to comments often if you take this leap into the world of political blogging!

News: Do you have an eye for news and an interest in sharing that news in a unique and fascinating way? Although you certainly don't want to just regurgitate the same material out there on every news site, you may want to share the latest information about a specific topic or even report the news through a comedic filter.

Journaling: Remember when you were a teenager and wrote down your every thought, hope, and dream? Now you can do that online and share it with the world! Journal bloggers often share poignant reflections on life that are bold, brave, and incredibly relatable to their readers.

Deal and frugal Living: Perhaps you are the coupon queen in your family or even your town. Maybe you've found creative ways to turn leftovers into a meal masterpiece. The deal and frugal living blogging community has exploded in the last couple of years and brings millions of page views from families hoping to save a buck after visiting a blog.

DIY and design: As do frugal living bloggers, DIY and design bloggers bring their incredible skills to the Internet, wowing readers with their abilities and instructing and inspiring them on how to do the same at home.
About This Article
This article is from the book:
This article can be found in the category: