One of the icons in Blogger that deserves special attention is the Link icon — the small globe icon with a link of chain on top of it. Use this option whenever you want to link to another blog, a news story, that embarrassing Web site your best friend just created, or any other Web site.
When you want to create a clickable link in your blog post, follow these steps.
Highlight the text you want to make clickable by clicking and dragging.
Include only the text that you want to make in to a link — not the punctuation after it (like a comma or period).
Click the Link icon.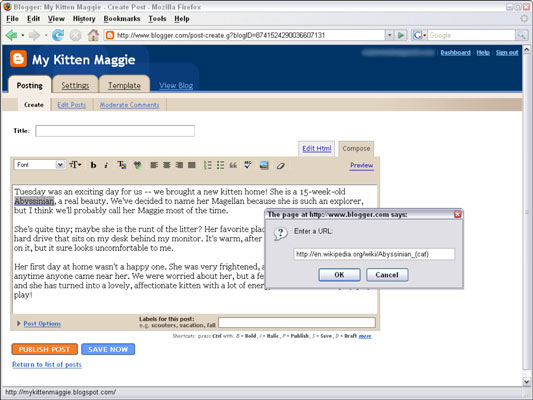 A pop-up window appears.
Enter the URL of the Web site you want to link to and click OK.
Include the full URL of the Web page in this field. You need to keep the http:// that is prefilled in the form for you. The URL you use should look like
http://en.wikipedia.org/wiki/Abyssinian_(cat)
and not
en.wikipedia.org/wiki/Abyssinian_(cat)
About This Article
This article can be found in the category: