What is eBay Valet? Simply, the eBay Valet program is an automated system for people who want to sell merchandise on eBay without bothering to learn the ropes. It would be (as you would be as a consignment seller) a way for those who are not familiar with eBay to get their items sold.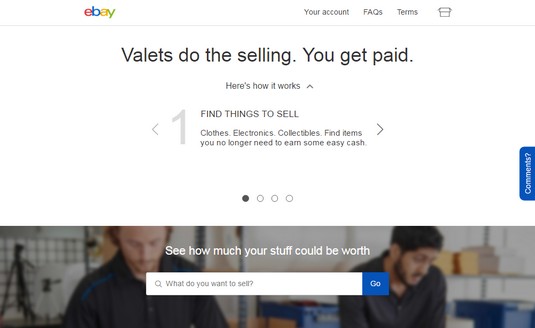 The portal for eBay's Valet program.
You may remember that eBay used to have a Trading Assistant program where they promoted consignment sellers; but that's no more.
There isn't much to recommend it for sellers. If you want to try it, you can read more about its procedures directly from eBay.
If you're still interested, the requirements to become an "eBay Valet" are listed below. eBay stresses that you must go through a rigorous screening — and the points below are not the only requirements:
Ability to list 100,000 listings each month
Storage capacity sufficient to hold and manage items received for at least 21 calendar days
Ability to list items across all eBay categories
Physical presence in all major metropolitan hubs in the U.S.
Demonstrated ability to consistently deliver the highest standards of buyer experience to eBay shoppers
If you can fulfill all of those requirements — especially number 3 — well, frankly, you should be making a bundle on your own.
About This Article
This article is from the book:
This article can be found in the category: