Anything and everything automotive can go in the eBay Motors category, and it will sell like giant tires at a monster truck rally. Following are just a few of the car-related items that fit in the eBay Motors category: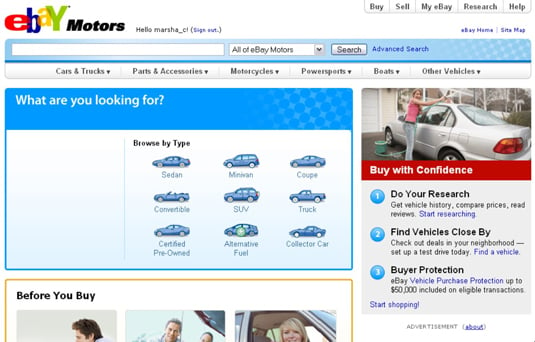 The eBay Motors home page.
Car parts
Got used car parts? eBay has an enormous market in used car parts. New car parts are in demand, too. If your local auto-parts store is blasting out door handles for a 1967 Corvette (a vehicle it's hard to find parts for), it wouldn't hurt to pick up a few. Sooner or later, someone's bound to search eBay looking for them. If you're lucky enough to catch the trend, you'll make a healthy profit.
Cars
Yes, you can sell cars on eBay. In fact, used-car sales have skyrocketed online thanks to all the people who find eBay to be a trusted place to buy and sell used vehicles. Selling vehicles on eBay is a natural business for you if you have access to good used cars, work as a mechanic, or have a contact at a dealership who lets you sell cars on eBay for a commission or on consignment.
To complete your sale, eBay Motors features free passenger-vehicle purchase protection that covers up to $20,000 (with a $100 buyer co-pay should you have a claim), one-click access to Carfax reports, vehicle inspection and escrow services, and vehicle shipping quotes from Dependable Auto Shippers. You can access eBay Motors and its services from the eBay home page.
Selling a car on eBay Motors is a bit different from selling on regular eBay, mainly in the area of fees. To encourage sellers to list and sell vehicles on the site, eBay has set up a tiered system of fees. The first four vehicles you list in a 12-month period are charged no listing fees, but have a slightly higher transaction fee when the sale is successful. There is no final value fee for selling on eBay Motors; instead, you pay the transaction service fee when your item gets a bid (or if you've used a reserve, when bidding meets your reserve price). Take a look at the following tables for the significant differences.
Vehicle-Specific Fees for eBay Motors

| Type of Fee | Fee for First Four Listings in a 12-Month Period | Fee Starting with Fifth Listing in a 12-Month Period |
| --- | --- | --- |
| Vehicle insertion (listing) fee | 0 | $20.00 |
| Vehicle Successful listing fee | $125.00 | $100.00 |
| Motorcycle insertion (listing) fee | 0 | $15.00 |
| Motorcycle Successful listing fee | $100.00 | $80.00 |
| Reserve price in listing (refundable if the vehicle sells) | $7.00 | $7.00 |
To sell a vehicle on eBay Motors, you must enter the Vehicle Identification Number (VIN) on the Sell Your Item page. This way, prospective buyers can access a Carfax report to get an idea of the history of the car.
An item that you've listed on eBay Motors will appear in any search, whether a potential buyer conducts a regular eBay search or a search in eBay Motors.
About This Article
This article can be found in the category: