The folks in the brown UPS trucks love eBay. Most eBay sellers who ship with UPS opt for Ground service. UPS also takes many of the odd-shaped large boxes that the U.S. Postal Service won't accept.
UPS makes pickups, but you have to know the exact weight of your package so that you can pay when the UPS driver shows up. UPS charges for pickup service unless you have a Daily Pickup account and ship a minimum number of packages with UPS per week.
If you're going to use UPS regularly, be sure to set up an account directly with UPS. The rates for the same UPS shipment can vary based on whether you have a business account with UPS, whether the package goes to or is picked up at a residence, and whether you use the right kind of form.
Although UPS offers discounts to eBay PowerSellers, don't be fooled. If you ship mostly small packages, you'd have to ship truckloads of goods on a daily basis to compete with United States Postal System rates.
Check out the UPS home page. For rates, click the Shipping tab and then click Calculate Time and Cost on the left side of the page, which gives you estimated prices based on ZIP codes and package weights. Note the ominous word "estimated" and also be aware that the UPS.com quick cost calculator prices are based on what UPS charges its regular and high-volume users. When you get to the counter, the price may be higher than what you find on the Web.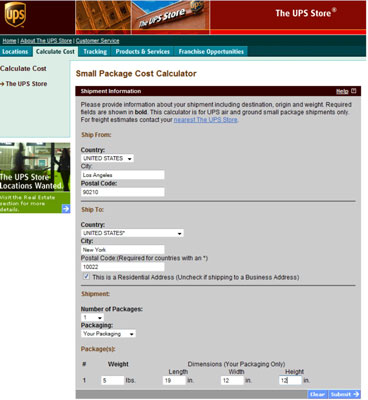 A cool link on the UPS site is the transit map that shows the United States and how long it takes to reach any place in the country (based on the originating zip code). If you're thinking of shipping that compact refrigerator to Maine, you can check out this fun and informative Ground Time-in-Transit map.
About This Article
This article is from the book:
This article can be found in the category: