Joining and participating in eBay community boards, chats, and groups can help establish your eBay presence. You can connect to the people and happenings on eBay through the navigation bar's handy Community link. Thanks to these groups, chat rooms, and discussion boards, eBay can have a small-town feel.
The one cardinal rule for eBay chat boards and discussion boards is: No doing business on the board. No advertising items for sale!
Start on the main page by clicking Community on the navigation bar. Now you can access more than three dozen category-specific chat and discussion boards, a bunch of general chat and discussion boards, and discussion boards that offer help with eBay difficulties.
When you hover your mouse pointer over the Community box in the navigation bar on the eBay home page, you'll see a drop-down menu. From here, you can get to the different eBay Community pages. The most important is the Announcement Board where you can find out what's going on (directly from headquarters) on the Web site.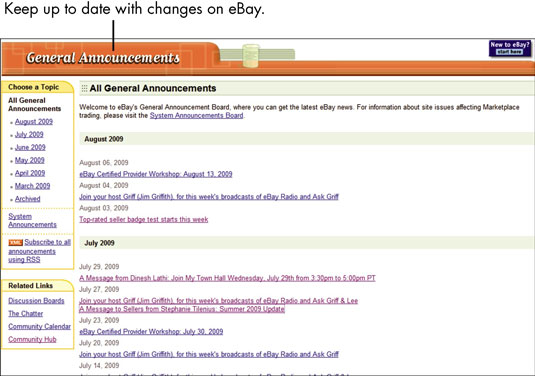 If you ever have specific eBay questions, you have several ways to get them answered:
eBay discussion help boards on the Community: Chat page can help you. You can also go directly to the chat rooms to ask your question to eBay members.

Discussion boards work differently from chat rooms. Users of discussion boards tend to go in, leave a message or ask a question, and pop out again. Also, to get an answer in a message board, you have to start a thread by asking a question. Title your thread with your question.

Going to eBay's Answer Center can get most of your questions answered. You get there by clicking the Answer Center link in the Connect area on the main Community page. You then see questions covering almost any topic you can think of regarding listings on eBay. Just post your question.
More than 20 category-specific chat boards are great for posting questions on items that you don't know much about. You can also find helpful sources for shipping information about items in that category (such as large furniture in the Antiques section or breakable items on the Glass chat board). You reach these boards by clicking Community on the main navigation bar and then clicking Chat Rooms in the Connect area.
If you're the friendly type and would like an instant group of new friends, click the Groups link in the Connect area. Here you can find thousands of user groups (either public or private) hosted on eBay but run by eBay community members. They may be groups consisting of people from the same geographic area, folks with similar hobbies, or those interested in buying or selling in particular categories.
Joining a group is easy: Just click any of the links on the main Groups page, and you're presented with a dizzying array of groups to join.
About This Article
This article is from the book:
This article can be found in the category: