Opening an eBay Store can expand your business. eBay stresses the fixed-price format on the site these days, and buyers are looking for that format. The more that savvy buyers learn about eBay Stores, the more popular they become. The more popular they become, the more people buy from them. An eBay Store provides you with your own little corner of eBay where you can make use of your good relationships with your customers and sell directly to them.
If you're doing well selling your items on eBay auctions or fixed-price listings, you may wonder why you'd open an eBay Store. Well, in an eBay Store, all items are set at a fixed price and can remain online until cancelled (or can be listed for as few as 30 days), so it's kind of like a giant collection of Buy It Now featured items. If you've used the eBay Buy It Now feature in one of your listings and it worked for you, the eBay Store experience is similar.
If you're just beginning on eBay, hold off on opening an eBay Store until your feedback rating is over 100. Participate in transactions on eBay, because
You'll see mistakes that sellers make when they sell to you. Some sellers will send you e-mails that are plain unfriendly, and leave you with a truer understanding of how quality customer service — and common courtesy — will help you build your own business.

You'll also learn from your own mistakes and be able to provide better service to your customers.
If you decide to open an eBay Store,. eBay has few requirements:
Registered user: You have to be a registered seller on the eBay site with a credit card on file.

Feedback rating: You must have a feedback rating of 20 or higher, or be ID Verified, or have a PayPal account in good standing. You can also qualify without the 20 feedback if you are ID Verified — but you really won't have enough experience to run your store.
These aren't eBay requirements, but they're highly suggested:
PayPal account: You need to have a business or premier PayPal account to accept credit cards. Accepting credit cards is a necessity for building sales, and PayPal is integrated into the site, as well as being widely accepted by buyers.

Sales experience: Having selling (and buying) experience over and above the 20 transactions required by eBay is a big plus.

Merchandise: Opening an eBay Store with only one each of ten items isn't a good idea. You need to have enough merchandise to support consistent sales in your store.

Devotion: You need to have the time to check into your eBay business at least once a day, and the time to ship the purchased merchandise in a prompt manner.
Before you open a store, understand how buyers must find your store merchandise. The items listed as store inventory will not come up in an eBay search unless eBay can come up with 30 (or fewer) of the item searched for in traditional listings. The only way new buyers can find your store inventory is by clicking the Find Items in eBay Stores link in eBay Search, by searching items on the store hub page, or by clicking from one of your auction pages to see what else you have on sale.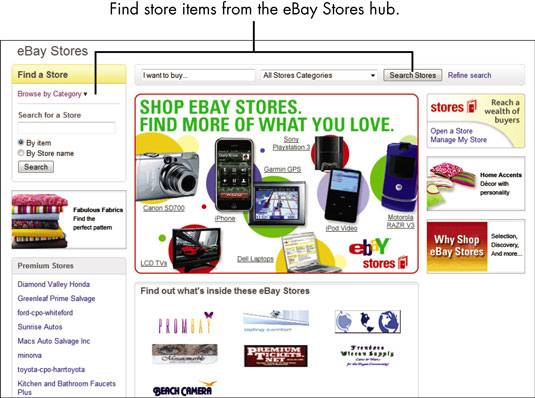 eBay Stores are not a total solution, and having an eBay Store isn't a one-way ticket to Easy Street. Running an eBay Store takes an extra level of effort. No matter how many money-back guarantees you receive from online spammers promising magical success on eBay, the only magic is putting your shoulder, nose, and whatever else to the grindstone — and exerting the effort necessary to bring customers to your store.
About This Article
This article is from the book:
This article can be found in the category: