As an eBay PowerSeller, you have access to places on the eBay site reserved for PowerSellers only. Your benefits include access to a PowerSeller newsgroup, PowerSeller discussion board, and even special items at the eBay store. You can find all these places at the eBay PowerSeller portal.
You must log in to this area, and only PowerSellers are allowed to enter. Becoming an eBay PowerSeller is an important step to eBay professionalism. Power selling something worth aspiring to.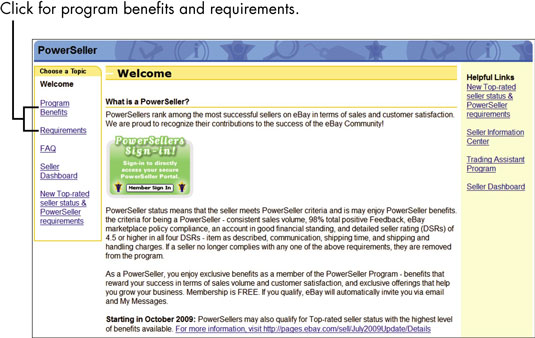 eBay has come to value that quality sellers not only sell a volume (of dollars and items), but also give people the best buying experience on the site. So eBay has devised a plan (tied into those gnarly Detailed Seller Ratings) to reward PowerSellers who play by the rules. In addition to receiving premium support, eBay PowerSellers get other benefits:
Increased visibility in Best Match search: Now eBay gives the advantage to the listings of the upper half of sellers in terms of buyer satisfaction. Sellers with detailed seller ratings above 4.7 in the last 30 days will receive 5 to 25 percent more exposure than the average seller.

Discounts on Final Value Fees: eBay discounts the Final Value Fees on the monthly bill to PowerSellers who maintain high standards. (Your DSR ratings must be 4.6 or higher in all four categories to get the discount). See the table for the discount amounts.

Expanded seller protection from PayPal: PowerSeller U.S. account holders are covered for eligible transactions in the event of an unauthorized payment or item-not-received claims, chargebacks, and reversals.

Approved use of PowerSeller logo: eBay supplies PowerSellers with special templates so they may print custom business cards and stationery that include the official PowerSeller logo.

Unpaid Item Protection: PowerSellers not only get Final Value Fee and listing credits when faced with a nonpaying buyer, they also get a credit for any Listing Upgrade Fees (for example, Buy It Now, Bold, or Subtitle).
eBay PowerSeller Discounts on Final Value Fees

| DSR Percentage for Past 30 days | Percentage of Discount |
| --- | --- |
| 4.6 | 5 |
| 4.8 | 15 |
| 4.9 | 20 |
About This Article
This article is from the book:
This article can be found in the category: