You have a Facebook page, right? Consider using that to whip up some eBay business. You share fun thoughts and ideas with your family and friends, right? Well, when you set up an eBay business, you can have a page for your small business. You won't be directly selling from your Facebook page (although you can), but having a page is an efficient way to meet people online and interest them in what you're selling.

Your initial base for building a business page comes from your friends. When you get over 25 people to "like" your business page, you can get a custom URL from Facebook for the page. You can see this one: www.facebook.com/MarshaCollierFanPage (because it was established a long time ago — when they were called "fan" pages). The page is different from this personal page at www.facebook.com/marsha.collier.

You may want to try to treat each page differently, encouraging more intimate contact on your personal page, and posting things like business information and conversation on your business page.

Unless your political and religious views reflect your core self and/or your business, it's best to stay away from making public statements on these topics. Whatever you put on the Internet is indexed and recorded somewhere — and your prospective customers may be put off if they do not hold the same views as you.

As a subtle touch on your business page, you can use an application called Auction Items (despite the name, the app also posts your fixed-price listings). Applications such as this can only be used on business pages. The application will be listed in the links on the left side of your business page. You can find it to put on your page at Facebook's Auction Items App page.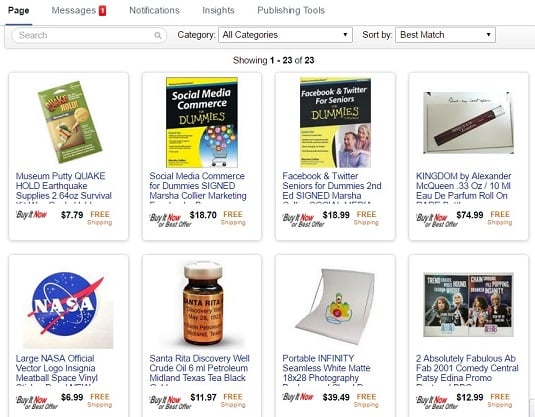 The Auction Items application on this Facebook business page has clickable links that directly go to a page with eBay listings.
The publishers of the app also offer other free tools. They enable eBay sellers to embed their listings into their websites by inserting a short HTML code into the website or via a WordPress plug-in. Check here to learn more about these eBay tools.
Another example is (and fellow eBay seller — dnasupplies) Anita Nelson. She has two Facebook pages as well: one personal and one for her business, ModelSupplies. She is also @ModelSupplies on Twitter.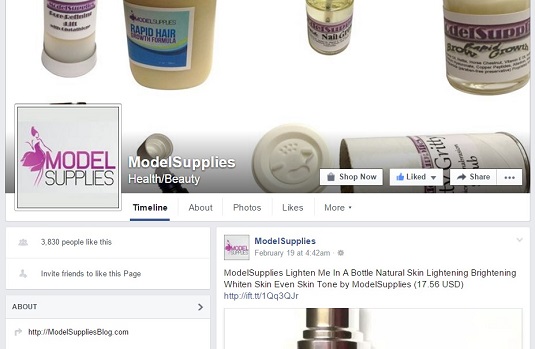 The ModelSupplies Facebook page builds her eBay business on Facebook.
About This Article
This article can be found in the category: