If you're looking online for a product you want to buy, where do you start? With a major search engine? Well, if you're like many Internet users, the answer is no. You start at your favorite shopping site. Late in 2018, eMarketer reported that almost half of all American Internet users begin their search at Amazon and about a third began at Google.

For years, it's been known that most product searches are carried out away from the major search engines. Way back in 2010, comScore estimated that for every two searches carried out on the major search engines (Google, Yahoo!, Bing, Ask.com, and associated sites), one search was being carried out on various other sites, such as YouTube, Facebook, Craigslist, eBay, and Amazon. In 2014, it was reported that eBay alone was getting 75 billion searches a month.

Consider this, also. Almost all Amazon and eBay searches are product searches, and a huge proportion of Craigslist searches are for products, too. (Craigslist is also the world's most popular "personal ads" site, with 50 billion pageviews a month.)

Consider also that many other product indexes exist. How many people search at Rakuten.com, Overstock.com, PriceGrabber.com, Walmart.com, Sears.com, and other similar shopping and price-comparison sites?

Here's what you can know about searches:
Most searches at product retailers, and many searches at classified-ad sites, are for products.
Most searches at the major search engines are not for products.
That's right. Most searches at the major search engines are not product related; they are homework related, news related, celebrity related, politics related, Kim Kardashian and Taylor Swift-related. Sure, the major search engines get tens of billions of searches a month, but those searches cover all aspects of life, not just making purchases. comScore, in fact, reported years ago that Amazon alone gets three to four times as many product-related searches as Google does.

The simple truth is that most product-related searches are being made outside the major search engines!

But wait, there's more! The major search engines have their own product indexes. For instance, various indexes are maintained by Google: the PPC index, the organic-search index, and the local-search index, and the Google Shopping index. In the figure, you can see an example; I searched for binoculars, and Google displayed binoculars from its product index. Yahoo! and Bing provide shopping results, too.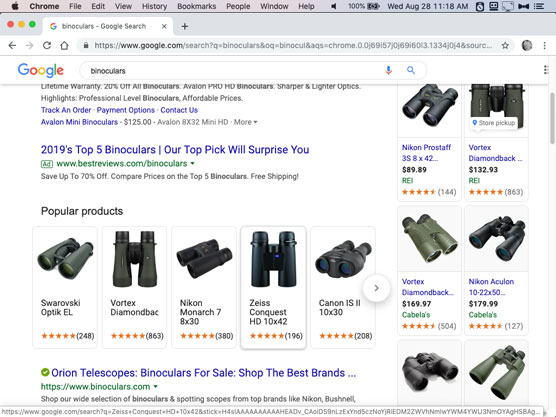 Google Shopping Search results.

So, imagine the following scenario: You sell rodent-racing products, such as harnesses, timers, gates, and the like. You've done a great job getting into the organic-search indexes — most importantly, Google's and Bing's (and, therefore, Yahoo!'s) — and you rank well when people search for your products. But you still have one big problem. Most of the search results being presented to your prospective clients don't come from the organic-search indexes; rather, they come from Amazon's index, or Craigslist's, or eBay's, or even one of the major search engine's product search indexes: Google Shopping, Connexity (which provides product information to Yahoo!), and Bing Shopping.

The simple truth is this: If you sell products, you must consider the product indexes! (And, if you sell services, you must consider at the very least Craigslist, and potentially other service-oriented directories or lead-generation sites that sell leads for your type of business, such as Amazon Home and Business Services and Thumbtack.com.

Before you sign up for any kind of online lead-generation service, check them out carefully. I can assure you that, as my experience working as an expert witness in litigation related to digital marketing has taught me, some of these lead-generation companies have very unhappy customers! Do a little online research to see what people are saying before getting started.

These directories generally expect you to pay, though not all do; Craigslist, for instance, is free for most types of ads. In general, the ones that do expect you to pay charge only when someone clicks on a link to visit your site, or even when a sale is made, or a business lead sent to you, so these directories may be worth experimenting with, too. There are, in effect, three different types of indexes:
Simple product indexes: You list your product in the index, and, with luck, when people search for products like yours, your products pop up, the searchers click, and they arrive at your site.
Classified-ad sites: You periodically post ads about your products, with links back to your site.
E-commerce marketplaces: With this type of index, you are putting your products into someone else's store — eBay, Etsy, or Amazon.com, for instance. In some cases, it may not even be obvious to buyers that they're buying from a third party; they put your product into the merchant's shopping cart and pay that merchant. Then you ship the product … or, in some cases, the merchant may stock and ship your products for you.
By the way, you have another advantage to being in these additional indexes, owing to the fact that results from these indexes often turn up in regular search results. The major search engines obviously integrate their own product index results into their organic-search results. But they also index Craigslist, eBay, Amazon, and most, if not all, of the sites discussed in this chapter. So, you get yet another chance (maybe several chances) to rank well in the organic search results.
About This Article
This article is from the book:
This article can be found in the category: