Are you ready to get started with your new FitBit? You need to do a few things to set up your device before you can take off in pursuit of all of those personal fitness goals. Soon, you will be ready to use your FitBit to track your caloric intake, connect with others, view your total exercise, set fitness goals, and much more.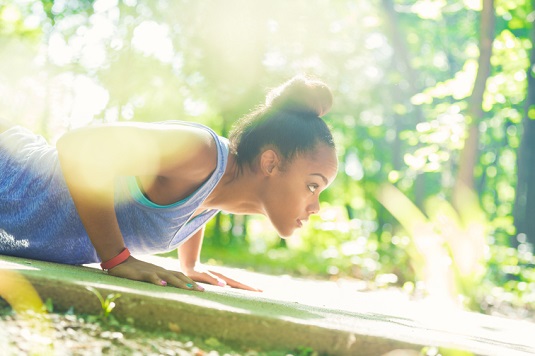 Credit: ©iStock/Steve Debenport
Use the FitBit to track your personalized fitness plan.
You can connect your FitBit account to a number of third-party applications including Weight Watchers, Strava, MapMyRun, and many more. This allows you to integrate your data in one place. Check out the FitBit site to see a list of third-party applications you can use with your device and how to connect your accounts.
Setting up your FitBit
Before you can get moving with your FitBit, you need to make sure you have downloaded the appropriate app. If you have not already done so, click on the link below that corresponds to your device.
Set up is easy. Once you have the app downloaded to your device, simply choose Join FitBit. The app will guide you through the setup process. An account is necessary to take advantage of the statistics that your FitBit will provide. You will also need to sync your device with the app. During this process, you will be asked for personal information. This information is used to calculate your basal metabolic rate (BMR) so that the app can give you the most accurate information. But don't worry, your information is private unless you opt to change your privacy settings.
If you need some motivational help (and who doesn't?), you can choose to share your information with others. Simply access the Privacy settings in your FitBit app by choosing the gear icon, then select Settings→Privacy. From there, you can view your information and choose what you would like to be visible to others.
Deciding to upgrade? You can replace an existing FitBit with the latest model or add another device to your account. If you are replacing the FitBit with a newer version, simply confirm the new device. If you choose to add another tracker, you will need to select a primary device. Your account will always sync with the primary device first.
If you want to take a test drive before committing to a purchase, just sign up for a free FitBit account to take a peek before you buy a device.
Caring for your FitBit
Are you a constant user of your FitBit? These health devices are intended to be worn for long periods of time so that you can keep a close eye on your fitness. Here are some tips from the folks at FitBit for caring for your device and yourself:
Clean your device: Obviously, your FitBit is intended for use during exercise. As a result, the device can easily become covered in sweat or other buildup. Clean elastomer bands with a small amount of water or rubbing alcohol. To cleanse a metal or leather band, use a soft, lint-free cloth. Lightly moisten the cloth if necessary.

Avoid excessive use of lotions, perfumes, repellants, or oils to avoid damage to your FitBit and skin irritation.

Make sure your band is dry: This is more out of a concern for your skin than your FitBit. These devices are water resistant, but it is never good to keep a wet band on your skin as this can cause irritation.

Make sure your FitBit is comfortable: You don't want your device to be too tight. Ideally, you want the device to move freely on your wrist, but still feel secure.

Take a break: No one needs to wear a device all the time. Sit down and unplug for an hour or so. That's good advice for any technology.
Using common sense is really the best course of action for caring for yourself and your FitBit. Care for it as you might a waterproof phone and you should be fine.
About This Article
This article can be found in the category: