Fitbit offers a surprisingly large collection of activity tracking devices, including simple clip-on trackers, full-featured watches, and even a scale. To give you a sense of the entire lineup, here are summaries of what each Fitbit can do.
Fitbit Ace
The Ace (and the updated Fitbit Ace 2, which was announced but not yet released when this article was written) is a wristband activity tracker (see the following figure) designed for kids aged eight years old and up. The Ace tracks a few useful health and fitness metrics, including steps, active minutes, and sleep duration, and it enables kids to track their progress, challenge their friends, set activity goals, and win rewards and badges for achieving those goals.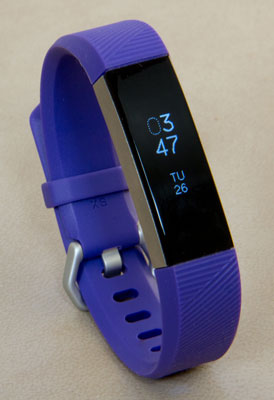 The Fitbit Ace wristband tracker.
What sets the Ace apart from the other Fitbit offerings is its kid-centric focus, which includes a collection of fun clock faces, child-size wristbands (it comes with two: one larger and one smaller), and a Kid view for the Fitbit app, which presents a scaled-down version of standard app features (as well as a Parent view that enables parents to monitor their children's activity and ensures that only parents control each child's Fitbit account).
Although Fitbit describes the Ace as "showerproof," it is not waterproof. It is, instead, merely water-resistant, meaning that it should survive most spills and splashes, sweaty workouts, and even short exposures to light rain (that's what the shower in showerproof is referring to), but it's not meant to be used when swimming, bathing, or lingering under a hot shower.
Fitbit Aria 2
The Aria 2 is a departure for Fitbit because it isn't something you wear. Instead, it's a weighing scale — Fitbit calls it a smart scale — that you step on.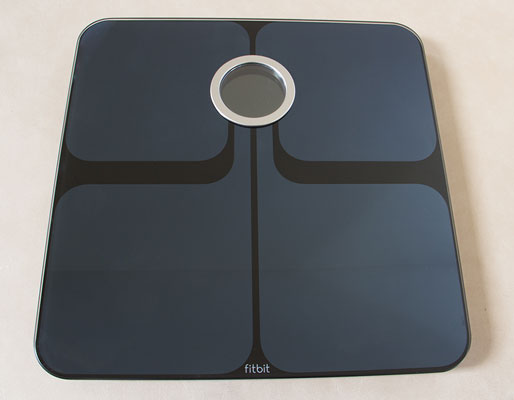 The Fitbit Aria 2 weighing scale.
The Aria 2 shows not only your weight (in pounds, kilograms, or stone) but also your body fat percentage and your body mass index. The Aria 2 supports up to eight different users and uses Wi-Fi to sync your weigh-ins with your Fitbit account, which enables you to monitor the effect your activity has on your weight and body fat.
Fitbit Charge 3
The Charge 3 is a wristband tracker (see the following figure) crammed with features for enhancing not only your health and fitness tracking but the rest of your life as well. The just-the-right-size display shows the time and the usual tracking suspects, including steps, distance, floors climbed, calories burned, sleep, and total active minutes. The Charge 3 has a built-in wrist-based heart rate monitor, so you also see your real-time heart rate and get heart-rate-related features such as heart rate zones, cardio fitness level, and sleep stages.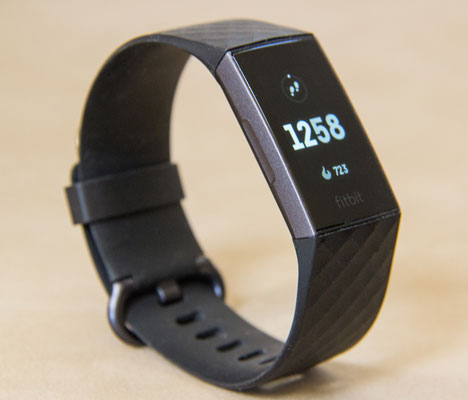 The Fitbit Charge 3 wristband tracker.
The Charge 3 tracker also supports SmartTrack for automatic exercise recognition and can track real-time pace and distance by connecting to the GPS on your smartphone. The Charge 3 comes with several apps that enable you to set more than a dozen exercise modes, perform guided breathing sessions, and set alarms, countdown timers, and use a stopwatch. The device is waterproof to 50 meters, so you can use it to track your swims and leave it on while you take a shower.
Fitbit Flex 2
The Flex 2 is the successor to Fitbit's original Flex wristband-type tracker and is the simplest — and the least expensive — of the Fitbit devices. Like the Flex, the Flex 2 doesn't have a screen. Instead, it offers a progress display consisting of five LED lights that illuminate as you get closer to your daily step goal. When you reach your goal, one of the lights flashes green to celebrate.

That same LED flashes blue when you receive a call or text notification, magenta when you get a reminder to move, and red when the device's battery is low. The Flex 2 supports sleep tracking, SmartTrack, and silent alarms. If you're a swimmer, you'll be glad to hear that the device is waterproof down to 50 meters.
Fitbit Inspire
If you want a slim, wristband-style tracker with a screen, the Inspire is worth checking out (as well as its close cousin, the Inspire HR, described in the next section). With a thin wristband and an equally thin display (identical to the one shown in the following figure), the Inspire doesn't take up much wrist room, but its tappable screen offers the date and time; activity stats such as steps, calories burned, active minutes, distance, and hourly activity (that is, taking at least 250 steps each hour); and health metrics such as time asleep, water consumption, and weight.

The Inspire also supports Fitbit's SmartTrack feature, which automatically recognizes certain activities, such as walks and runs of at least 15 minutes, and adds them to your exercise list for the day. The Inspire also has silent alarms, a countdown timer, and a stopwatch, and can display smartphone notifications.
Fitbit Inspire HR
The Inspire HR, shown in the following figure, is a wristband-type activity tracker that looks similar to the Inspire. The main difference between the Inspire and the Inspire HR is that the latter comes with a built-in heart rate monitor that shows your ticker's beats per minute in real time. The Inspire HR monitors your heart rate at the wrist, so no bulky and inconvenient chest strap is required. Nice.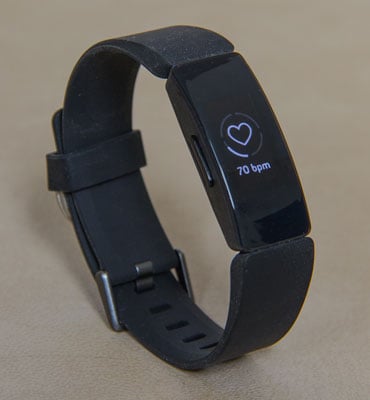 The Fitbit Inspire HR wristband tracker.
The Inspire HR also includes a number of features that you won't find in the Inspire, including sleep stages, swim tracking, exercise modes, cardio fitness level tracking, and support for using the GPS on a connected smartphone.
That heart rate data also gives the Inspire HR three other features that aren't in the Inspire:
Heart rate zones: Heart rate ranges that you can target during exercise.
Cardio fitness level: A cardio fitness score that you can track over time to see how your cardiovascular fitness is improving.
Sleep stages: The amount of time you spend each night in light, deep, and rapid eye movement (REM) sleep.
Fitbit Ionic
The Ionic is a watch-style tracker (see the following image) and Fitbit's flagship device. This baby is loaded with just about every feature offered by Fitbit: clock, activity tracking, sleep tracking, SmartTrack, exercise modes, and smartphone notifications.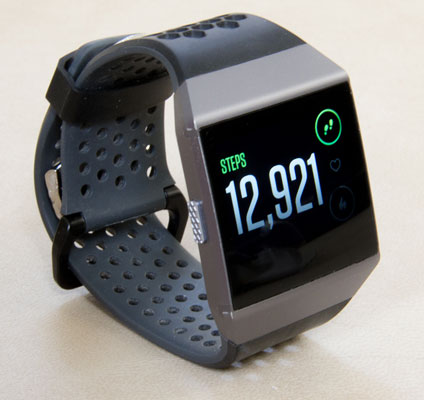 The Fitbit Ionic watch tracker.
The Ionic has a built-in heart rate monitor and global positioning system (GPS) receiver, a large and sharp display, a five-day battery life, and storage for more than 300 songs. In addition, it's waterproof to 50 meters. The Ionic comes with a number of apps for guided breathing, alarms and timers, the weather, and personalized coaching, but it also supports all third-party Fitbit apps. It's the most expensive of the Fitbit devices, but there's not much that the Ionic can't do.
Fitbit Versa
Similar to the Ionic, the Versa is a watch-type tracker. However, the Versa lacks a built-in GPS (you can still get real-time pace and distance by connecting the Versa to a smartphone), has a shorter battery life of four days, and is (at least in my opinion) less stylish. However, the Versa does support a long list of features and is $70 cheaper than the Ionic.

Fitbit also offers the Versa Lite Edition, which is a scaled-down version of the regular Versa that's $40 cheaper but doesn't tracks floors climbed or swims, doesn't offer onscreen workouts, and doesn't support Fitbit Pay.
Fitbit Zip
The Zip is Fitbit's only clip-on tracker and its simplest device. The teensy display shows only the time, plus your steps, activity minutes, and calories burned. Yep, that's the end of the list of features! The biggest plus that the Zip has going for it is battery life, which Fitbit says can be as long as six months. If you want a set-it-and-forget-it tracker, the Zip might be for you.
About This Article
This article is from the book:
This article can be found in the category: