Chromecast is a wireless display casting device developed by Google Inc. Chromecast enables the stream functionality of Chromebooks, Linux desktops, Android devices, and Google Chrome web browsers on in-home network HDTV setups. Basically, this means you can display or "throw" content from your computer, phone, and tablet to your high-definition television (HDMI required).
Besides "throwing" personal Google Play content to the device, you can also cast media from Netflix, YouTube, Hulu+, and other similar content providers directly to Chromecast from within your tablet and smartphone mobile applications.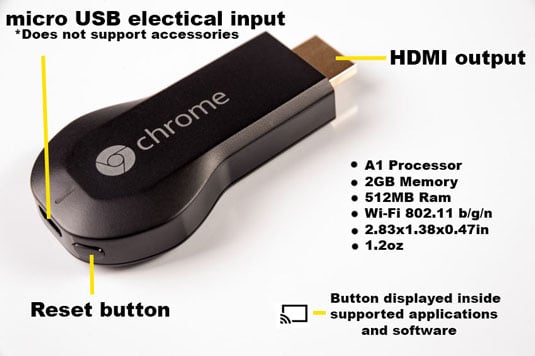 Credit: ©iStockphoto.com/moonisblack
Chromecast is still in beta, using programming initially designed for Google TVs in late 2010. Today there is a growing number of stable supported applications, and you can view a list of these apps that are supported at the Chromecast website. If your favorite application is not supported, then casting of the content must be done through the Google Chrome web browser.
After you download the Chromecast extension and click on the cast icon in the top right corner of the Chrome toolbar, your content will become visible to the Chromecast HDMI stick.
You need to remember a few things when considering a Chromecast device:
This device is not an Android and can't download apps directly to the device.

Chromecast has no human interface inputs and is not a stand-alone unit.

Your television must be high definition and equipped with HDMI.

Your home must be equipped with a local Wi-Fi network with at least 3Mbps bandwidth.

You must own a device capable of throwing or casting content to the Chromecast.
Chromecast setup
In order to set up the Chromecast device, it must be on the same network as other devices equipped with at least one application capable of casting. For instance, if you purchase a Chromecast and do not own a computer, tablet, or smartphone, the product will not be usable.
The setup for this product can be confusing. Since no interaction can be made with the Chromecast directly, you must first connect your computer to the wireless signal the device broadcasts. Because setting up the Chromecast might be difficult, the following steps will help to ensure the setup process goes smoothly:
Open the package and take note of all items inside.

The package should include power adapter, power cable, HDMI extension dongle, Google Chromecast streaming device and user guide.

Plug Chromecast into an open HDMI port on your television.

Use the extension dongle provided if the device does not fit on your model of television.

Plug in the USB power source.

The USB on some televisions does not send enough electricity to the device to make it function normally. If the device is acting weird, check this first before doing any further troubleshooting and plug the power source directly into the wall outlet adapter provided instead.

Turn on the television to the input source associated with the device.

On your computer, look in the Wi-Fi area of your system settings for a Chromecast wireless signal identifier (for example, SSID: chromecast9342.)

Connect to the Chromecast's SSID, and a web page will populate.

If the page fails to populate, you can find the website URL listed inside the new product packaging. This is the same website where you would perform device firmware updates.

Follow the instructions on the web page, and enter your personal Wi-Fi account information.

Restart the device, and Chromecast is ready.
The iOS and Android Chromecast control app simplifies this process by doing all the hard work for you! Provided you have a dual-band wireless mobile device, the application will scan for your network and then for the device. After the device is found by the control app, simply tap the Chromecast device icon and put in your network password. All other information needed will be populated by the application.
When the device is assimilated into your local network, the Chromecast buttons built into your PC /Mac Chrome browser and supported mobile applications then appear and can be used. Press the button and watch it cast media onto your HDTV.
Support and features provided by Google
Chromecast does not officially do direct mirroring like that of Apple AirPlay or Microsoft Wi-Di (wireless display). Instead, it sends the URL of the content you are trying to view to the device and initiates immediate playback.
This means you are not sending double the data through your network, bogging down your Internet speed or doubling up the traffic on your wireless router, which is a great feature built into this device's firmware! (Not to be confused with streaming, casting essentially means only one copy of the data will be sent through your network.)
When the Google Chromecast is not in use and is in idle mode, you can set it to cast a photo slide show, also known as a Chromecast backdrop. This feature can be customized via the Chromecast control app available to both iOS and Android users. Private and public photo feeds, weather, news, satellite images, and more can be added to the backdrop.
A pretty cool feature made available on android devices is integration with Google NOW; simply say, "OK Google, What's on Chromecast?" The Google services built into Android devices and Chrome web browsers then will give you any pertinent information on whatever is displaying on the Chromecast at that time.
Google Now also offers remote control functionality with the device's user interface. All that is needed is a few key words spoken into your Android tablet, smartphone, or Chrome browser; for example, say "OK Google, pause Chromecast," and the device will do just that!
Chromecast firmware causes the device to pick the highest possible resolution based on the Wi-Fi signal, regardless of Internet speed. This means the possibility of random buffering is present on lower bandwidths and can be quite noticeable on slower than 3Mbps Internet connections. Without a way to change the resolution manually, this feature may be problematic to some users.
Chromecast comes in a thumb drive form and boasts a $35.00 USD price tag. This product is a great buy if you already own a computer, tablet, or smartphone.
Chromecast compatibility
iOS devices like the iPhone or iPad display the Chromecast button in apps similar to YouTube but do not work very well if at all. Keep in mind iOS is only Chromecast friendly within the Chromecast control app.
Google Chrome for Mac OS X is supported and considered Chromecast friendly. Some pixilation issues were reported from the 11-inch MacBook Air early on, but a fix in the firmware has been implemented to correct this issue.
Windows Mobile functionality is slim to none, for the time being, providing only one Chromecast capable app called Tube Cast for both Windows 8.1 and Windows Phone 8.1.
Google Chrome for Windows is also supported; however, there are a few reports of connection loss issues that occur after 10 minutes of use, or the Chrome web browser can crash on the PC. Google, too, is aware of this issue, and firmware patches have been pushed to the device to correct connectivity issues with Microsoft products.
Whenever casting to the device, the mobile application or browser tab must remain open for continued connectivity. As soon as the app or browser is closed, the current media will finish casting, and then the device will go idle (Backdrop if enabled) as opposed to continuing on to play the next item in the queue.
Since the Chromecast is considered to be in beta testing still, the device's functionality will only get better with time as well as the stability of the supported web browsers and mobile applications.
About This Article
This article can be found in the category: