People using tablets like the Kindle Fire will tell you that one of the great uses for them is to play games of all sorts. From card games such as solitaire or matching games like Jewel and Mahjong, a variety of game apps are available for the Kindle Fire.
Chess Free game app for Kindle Fire
If chess is your thing, you'll enjoy this electronic version. Chess Free is offered, not surprisingly, for free from Al Factory. You can play the computer or play against another person using the same Kindle Fire. With the latter approach, the board swaps around after each play so that the next person can take his or her turn.
There's a game timer if you're in Chess Tournament mode. You can also change the style of the pieces and board.
Tap a piece, and then the game shows you all possible moves unless you turn off Show Legal and Last Moves in the game's Options. Tap the place on the board where you want to move the piece. If you have a change of heart, this game includes a handy Undo button.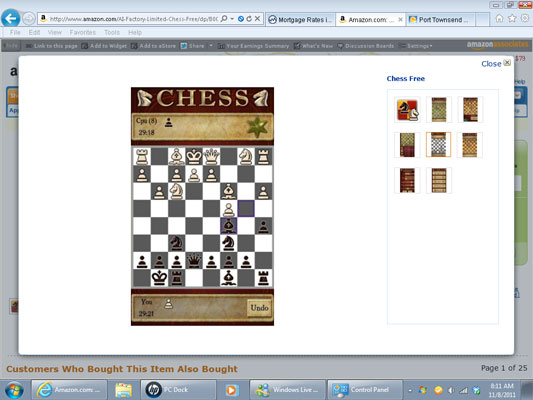 Jewels game app for Kindle Fire
If you have a thing about jewelry, or even if you don't, you might enjoy Jewels, which is offered for free from MH Games. This matching game lets you play with jewel-colored baubles to your heart's content.
The idea is that you can flip two gems on this grid-like game board if doing so will allow you to line up three items of the same kind. When you do, the lines of gems shift to provide a different arrangement.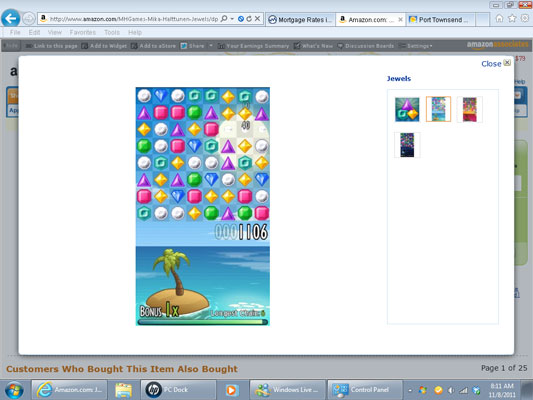 There are a few other rules, such as getting more points for chain reactions and scoring bonus points. The game is over when there are no more possible three-of-a-kind matches left.
Wordsmith game app for Kindle Fire
Wordsmith is kind of like the popular word game Scrabble and is offered for $2.49 from Second Breakfast Studios. You build words from available tiles and take advantage of double-letter and triple-word tiles to score extra points.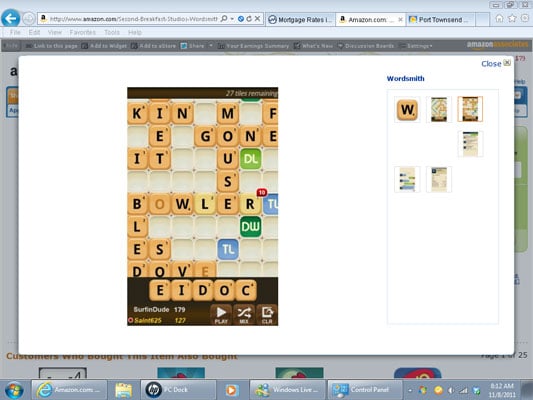 The game definitely gets you thinking about how to utilize tiles already in place to one-up yourself or your opponent. The game accommodates two to four players. Build up your vocabulary while having fun with Wordsmith.
As with many games, this one comes in a free version, as well. Free versions may include advertisements and offer more limited levels of play.
Solitaire Free Pack game app for Kindle Fire
There aren't too many surprises to this game, but for those who are devoted to solitaire, Tesseract Mobile Software offers a free electronic version you can play on the go on your Kindle Fire. Rack up the points with 43 different games, including Klondike, Pyramid, and Monte Carlo.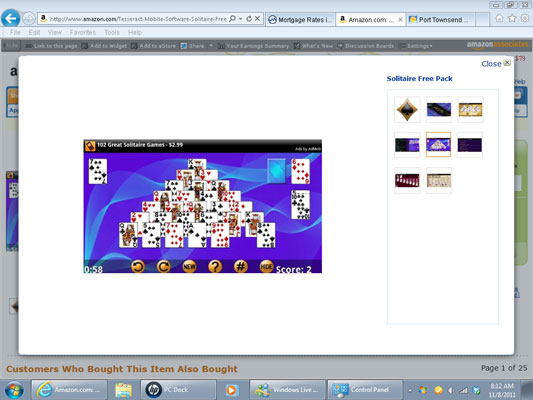 You can change the card backgrounds and track your game scores to see whether you're improving as you go. If you want to, you can take advantage of the unlimited redo feature to try and try again to win a game.
Random Mahjong game app for Kindle Fire
This game, which is offered for free from Paul Burkey, has no time limits, no super bonus points to earn. You just take your time matching the nicely designed tile layer by layer. You can control the look of the game and get hints when your brain is getting tired.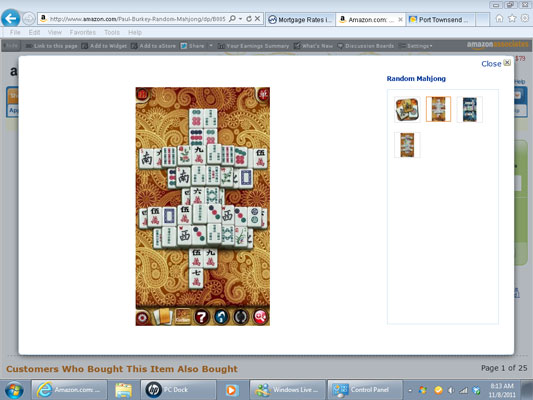 You do need to pay attention to how you unearth tiles from lower layers so that you can play them, and you can choose to play on larger and somewhat more complex boards. But other than that, this is a nice way to spend a rainy afternoon with nobody to beat and no exploding elements whatsoever.
About This Article
This article is from the book:
This article can be found in the category: