This tool is easy to use! If you want to get a file from your computer to your TI-Nspire handheld (or vice versa), you can use the last tab in the Documents Toolbox, Content Explorer. Connect your handheld to your computer using a USB–to–mini-USB cable.
Almost immediately, the Handheld File browser, located in the lower half of the Content Explorer panel, will recognize your handheld with an icon. Double-click the icon and locate the folder that you would like the file to be transferred to.
Now, locate the file (using the Computer File browser in the upper half of the Content Explorer panel) on your computer that you would like to transfer. Use your mouse to drag and drop the file. If you would like to transfer an entire folder, just drag and drop the folder.
In this way, you can easily transfer files back and forth between your computer and your handheld. See an expanded view in the second screen.
This tool can be used to transfer a new operating system as well. When you double-click on a connected handheld, the software will prompt you to update the OS if the OS on the connected handheld is not as up to date as the OS on your computer software.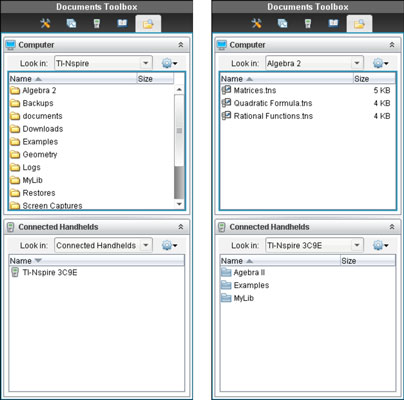 Much like the toolbar on your computer, the Documents Toolbox can be hidden from view. To accomplish this, choose Window→Autohide Documents Toolbox. Just click on the words Document Toolbox that appear on the dock on the left side of your document workspace to show the Documents Toolbox.
About This Article
This article is from the book:
This article can be found in the category: