Electrical systems use electric current to power things such as light bulbs and kitchen appliances. Electronic systems take this a step further. When you turn on a light in your home, you're connecting a source of electrical energy (usually supplied by your power company) to a light bulb in a complete path, known as an electrical circuit.
If you add a dimmer or a timer to the light bulb circuit, you can control the operation of the light bulb in a more interesting way than just manually switching it on and off. Electronic systems control the current, switching it on and off, changing its fluctuations, direction, and timing in various ways to accomplish a variety of functions, from dimming a light bulb, to flashing your holiday light display in sync with your favorite holiday tune, to communicating via satellites — and lots of other things. This control distinguishes electronic systems from electrical systems.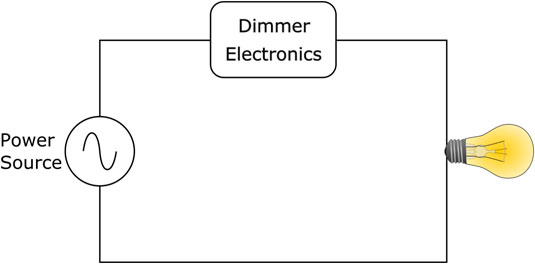 The dimmer electronics in this circuit control the flow of electric current to the light bulb.
The word electronics describes both the field of study that focuses on the control of electrical energy and the physical systems (including circuits, components, and interconnections) that implement this control of electrical energy.
To understand what it means to control electric current, first you need a good working sense of what electric current really is and how it powers things such as light bulbs, speakers, and motors.
About This Article
This article is from the book:
This article can be found in the category: