Point-and-shoot cameras are small, easy-to-use digital cameras and can be a great addition to your drone. The point-and-shoot camera is a great way to get a digital camera at a low price. These cameras were designed to take pictures without much thought (if any at all). They are great for the beginning photographer or the photographer that doesn't really care to take the time to set up a shot. Of course, with automatic settings, you are at the mercy of the intelligence built into the camera.
Point-and-shoot cameras are also designed to be compact so that they can fit in your pocket and be taken virtually anywhere. The smaller size means that their image sensors are extremely small, which will affect the quality of your pictures. That's not to say that you can't take really beautiful pictures with a point-and-shoot camera. These photos will just not be comparable to the images you can take with a full-size DSLR.
Point-and-shoot cameras rarely, if ever, come with support for additional lenses, so you are at the mercy of the integrated lens and zoom. This is great for keeping the overall weight of your camera rig down. However if you want to get different effects that can only be produced by incorporating different lenses, you're out of luck.
Most point-and-shoot cameras have a video mode, however, which is great for having the option to capture video on a device that is designed more specifically for capturing fantastic pictures. Several types of drones support point-and-shoot cameras. Take a look at these to get an idea of the different types of point and shoot cameras currently available.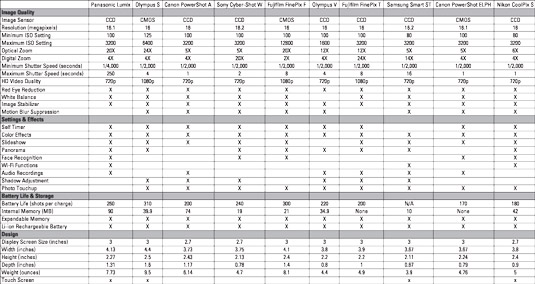 Compare and contrast point-and-shoot cameras.
Point and shoot cameras are great for capturing good quality pictures without spending too much time configuring a camera. These cameras typically come with great automatic settings that can adapt to their environment on the fly. These cameras are also light which makes them a great option for smaller drones.
Point and shoot cameras are also a little more durable than their DSLR big brothers. This is a great feature when strapping them to a flying computer that could potentially fly through a waterfall, crash into a tree, or fall out of the sky. Lastly, you can't really argue with the price. Point-and-shoot cameras are in a price range that is affordable for many!
About This Article
This article is from the book:
This article can be found in the category: