If you are hoping to use your drone for photography, you may want to consider buying a gimbal. A gimbal is a support system that allows an object to remain horizontal regardless of the motion around it. Gimbals were widely used in waterborne vessels to keep instruments, equipment, and even drink holders upright with respect to the horizon regardless of the motion of the boat. Drone gimbals keep a camera in the same position regardless of the motion of the drone.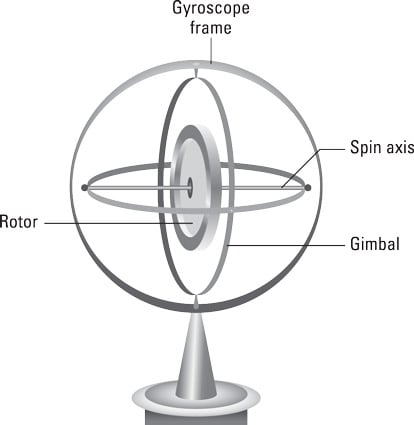 Credit: Source: LucasVB/Creative Commons
A basic illustration of how gimbals work.
Similar to how you would use gimbal technology to ensure that you don't spill your cup of coffee on the rough seas, a gimbal can keep your aerial camera in a specific position regardless of the movement of the drone around it. To fully understand how a gimbal works, you must first understand the three axes of aerial movement specific to an airplane.
A gimbal is designed to keep your camera at the same angle regardless of the movement of the drone by automatically compensating using calibrated and often remotely controlled electric motors.
How to find a gimbal for your drone
They sound extremely high -tech but the good news is that you don't need to know how a gimbal works in order to use it. But before you start shopping for a gimbal, you do need to know if your drone supports a gimbal. Most of the big manufacturers, such as DJI and Parrot, either have integrated gimbals or an exclusive line of gimbals that you can buy direct or through authorized retailers.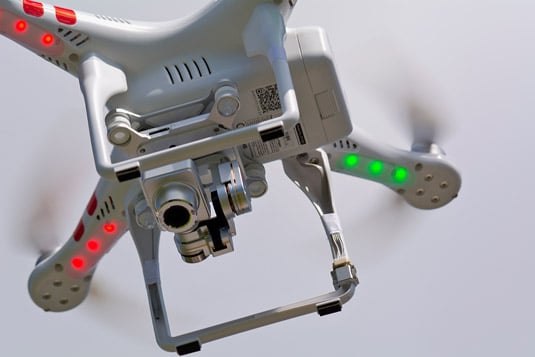 Credit: Source: B Ystebo/Creative Commons
A drone gimbal in action!
The benefit to purchasing a camera gimbal through your drone manufacturer is that you will get support for your device as well as a slew of easy to find documentation on how to use and maintain your gimbal. Not to mention, the gimbal is designed specifically for your drone and therefore should work without any major issues. One glaring issue, however, is that your choices can end up being somewhat limited. Here are some websites where you can find alternative options:
Helipal.com: This is a one stop shop for all things drone related. Search for camera gimbals and in the product descriptions you will typically find comments on what drones the gimbal will mount to. Helipal is great for shoppers outside of the U.S.

ReadymadeRC.com: This is a great family owned business based out of Ohio. If you can't find what you need on ReadymadeRC.com, you may be out of luck. Their exhaustive list of products makes it a great option for U.S. and Canadian customers.

Photography Store: Online photo supply stores, such as B&H or Adorama, are great outlets for finding a broad selection of camera accessories and equipment. If you have another camera website you typically frequent, search for "drone camera gimbal" on the sight, and see what you come up with.

Amazon.com: You can find almost anything on Amazon. Search for camera gimbals available through several different companies. This is a great way to price shop, read customer reviews, and even find some support documentation all before you buy.
Choosing the right gimbal
As you continue to research the right gimbal for your drone, you will find that not unlike shopping for the right drone, gimbals also come in many shapes, sizes, and combinations of features. Gimbals designed for specific drones will offer high end features that you may not be able to find from gimbals that are a little more universal. Major features include:
Number of axes: Gimbals for drones are either 2-axis or 3-axis. 2-axis gimbals do not compensate for yaw, which means that there will be slightly more bump in your images. 3-axis compensates for yaw, but this feature comes at a cost (naturally). If you are spending the money on a gimbal, you should go for the 3-axis.

Gimbals with three axes are generally heavier than their 2‐axis counterparts. A heavier gimbal means shorter flight times. Be sure to prepare to cut your flight shorter than normal when using a heavier 3‐axis gimbal.

Remote control: One of the benefits to buying a gimbal built specifically for your drone is integration into the flight controller. For example, some gimbals built for the DJI Phantom 2 can patch into the drone so that the camera's tilt angle can be adjusted remotely.

Camera support: Gimbals are designed with specific cameras in mind. There are some gimbals that come with support for multiple compact camera types. Primarily, you will find that gimbals are designed with support for the GoPro camera because of its wide use in action sports and aerial photography and videography. Make sure the gimbal you select supports your camera.

Pre-Calibration: Calibrating a gimbal can be somewhat tedious for beginners. A gimbal that comes pre-calibrated and ready to simply plug and play is the fastest and easiest way to get up and running. Gimbals made specifically for your drone should almost always come pre-calibrated. Calibrating isn't difficult, but it is one more step you have to take before getting airborne.
Once you have chosen the gimbal for you, installation should be a cinch. Zenmuse is a popular line of Gimbals by DJI that offer supreme technology and ease of use all bundled into one. Before you rip open the package, your best place to start is with the instruction manual or user guide. You can also find several assembly and installation instructions on YouTube.
Regardless of what you decide to go with, remember that using any gimbal is better than not using a gimbal at all. The gimbal helps reduce vibration generated by your drone's motors. The gimbal will also stabilize your video and pictures while in flight. If you aren't convinced yet, spend some time on YouTube searching for drone videos shot with gimbals. That will make a believer out of you!
About This Article
This article is from the book:
This article can be found in the category: