The only way to master flying a drone is to put in hours flying, crashing, and tinkering with it alongside educating yourself about the ins and outs of drones and drone flight. Your drone's manual can help get you started, but in time, you will find that you need access to many more resources to help you excel at flying your drone.
The good news is that many people like you all over the globe are pushing the limits with drones and drone technology, and they are connecting in online communities to share experiences.
A good place to find support for your drone is at its manufacturer's website. As more and more people fly a particular drone model, more bugs and quirks are found and funneled back to the manufacturer who can then quickly update its website. Needless to say, the manufacturer's website should be the most accurate, authoritative, and comprehensive source of information on your drone.
Check out the support directory at DJI (the manufacturer of the Phantom line of drones). The support information on the DJI website is extensive, and of course, in case you can't find answers, they also provide support phone numbers and other contact methods. You may also find helpful information about your specific drone or drone's at large on other online communities that aren't manufacturer controlled or sponsored. These can be a great way to find tips and tricks that a manufacturer hasn't spent the time to uncover and suggest.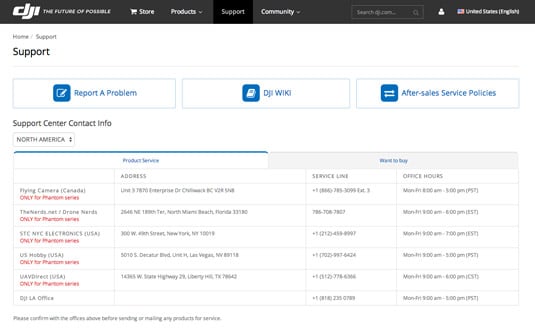 Credit: Courtesy of Tucker Krajewski
The DJI support directory.
Drone discussion forums
Sometimes support documentation or online FAQs (frequently asked questions) found on a manufacturer's website are overly technical or may not speak directly to your need. For that reason, you may find that traversing their user forums is the way to go.
Forums are online communities of sorts where users can create a personal profile and post discussion topics where others in the forum community can weigh in with their thoughts and opinions. This is a great way to plug in with other enthusiasts online. If you are on a manufacturer forum, you will have a higher probability of finding someone that can help you use your drone better, faster.
Drone forums are great for getting input and feedback from real people, but unless the feedback you are getting is from a confirmed authority, meaning someone representing the manufacturer of your drone in an official capacity, take any and all input you receive with caution as it may be unqualified information that could potentially steer you, and your drone, into a tree.
Check out the forums on Parrot's website. The forum is organized in a specific manner. At the highest level, everything in this discussion forum is about or relating to Parrot drones. Zooming in a little, there are then categories of forums. Each of the two Parrot drones has a category, and then a general community category is included. Zoom in a little more and you will see that there are specific topics within categories. This helps with organizing the information being shared on specific topics in a category.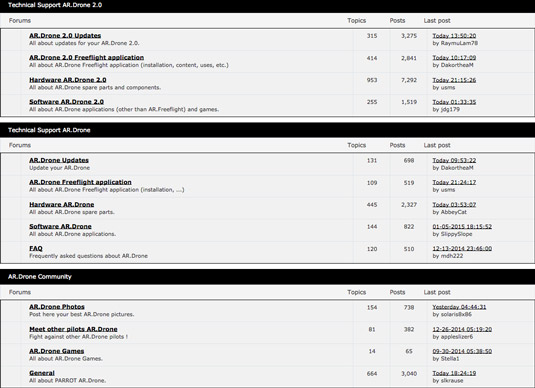 Credit: Courtesy of Tucker Krajewski
The Parrot drone forums.
Each topic is a forum for discussion. When you find the topic that pertains to the topic you want to discuss, you can dive in and start searching for discussions that relate to your current interest or issue.
If your manufacturer does not have a discussion forum or maybe they do and the forum doesn't have much activity (if any at all), then you may want to cast a bigger net in the digital ocean. There are numerous drone discussion forums on the web that will help you connect with a milieu of people. Here are a few popular drone forums:
Understanding forum rules and etiquette
Forums are filled with interesting people who enjoy interacting with others while retaining some amount of anonymity. Online forum users tend to be fussy; they will let you know if you don't follow the rules. Yes, forums have rules. Before you start posting questions and discussion starters on an online forum, you should make sure you fully understand the rules of engagement.
Here are some of the rules for the DJI forums. Some rules are obvious, like refraining from derogatory or defamatory speech, blatant advertising or spam, and so on. There are other rules that may not be as apparent, such as negative talk about the manufacturer, encouraging or demonstrating how to break the law with the manufacturers' products, and so on.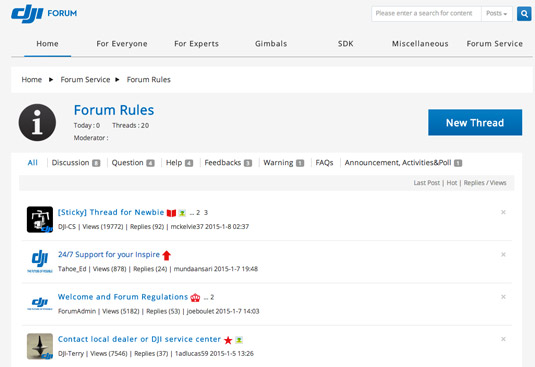 Credit: Courtesy of Tucker Krajewski
The DJI forum rules.
Forums are typically policed by forum moderators who represent the forum owner and are tasked with monitoring the adherence to rules, settling grievances between users, and providing "expert" opinions and feedback. Understanding the forum rules should keep you out of the hot seat with the moderators. Forums are also typically self-policed by forum users. Following are some thoughts to keep in mind before you post in an online forum:
Read and understand the forum rules. This will help keep you out of trouble with the forum moderators. Even if they don't catch an infraction, a fussy forum user will and they will likely report your devious behavior!

Be slow to speak. Technology is making things happen so quickly these days that people are slowly losing the ability to exert a little patience. When you use a forum, search for your topic of interest before you post. If you post a duplicate discussion topic, you will likely frustrate other users.

Beware of trolls. Forums are a great way to discuss issues with informed people. Forums are also a breeding ground for people that like to play games and suck others into useless debate and arguments, or even publicly humiliate them. These people are referred to as trolls. When you start posting in forums, tread lightly, and beware of lurking troublemakers.
About This Article
This article is from the book:
This article can be found in the category: