The icons you see on the Home screen don't represent all the apps in your Samsung Galaxy tablet. Those icons aren't even apps themselves; they're shortcuts. To see all installed apps, you must visit the Apps screen. To do so, touch the Apps button on the Home screen. You see the first panel of the Apps screen: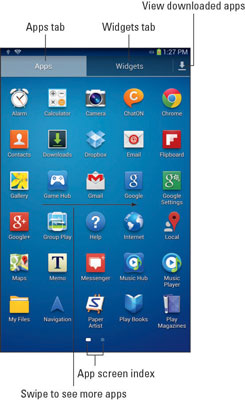 You can find any additional apps by swiping the Apps screen to the left.
Even more apps might be found inside folders found on the Apps screen. Here's an example of a folder icon:

To access apps in the folder, touch the icon.
To peruse installed widgets, touch the Widgets tab. Scroll to the left to view the various widgets.
As you install apps, they're added to the Apps screen. New apps are added to the end of the list or inserted alphabetically — that is, unless you change the way the Apps screen is viewed. Follow these steps:
Touch the Menu button.

Choose the View Type command.

Select Alphabetical Grid to have the apps listed alphabetically.
When Alphabetical Grid is selected, new apps are inserted in the Apps screen alphabetically.
If you choose the Customizable Grid option (Step 3), you can edit the order in which apps appear on the Apps screen. To edit, touch the Menu button and choose the Edit command. Then use your finger to rearrange the apps on the Apps screen.
About This Article
This article is from the book:
This article can be found in the category: