You can look at a map all day, and unless you have a GPS, how would you know where you are? Your Samsung Galaxy tablet knows where you are. Not only does it have a GPS, but by using the Maps app, it can instantly discover where you are, find what's nearby, and even send your location to someone else.
How to find out where you are with your Samsung Galaxy tablet
To find your current street address, or any street address, long-press a location on the Maps screen. Up pops a card that gives your approximate address.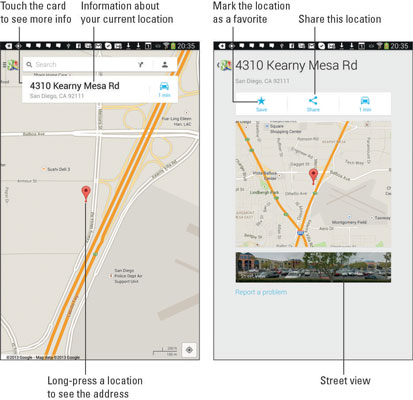 If you touch the card, you see a screen with more details and additional information.
This trick works only when the tablet has Internet access. When Internet access isn't available, the Maps app is unable to communicate with the Google map servers.

To make the card go away, touch anywhere else on the map.

The time under the Travel icon indicates how far away the address is from your current location. If the address is too far away, you'll see the Route icon, as shown in the margin.

When you have way too much time on your hands, play with the Street View command. Choosing this option displays the location from a 360-degree perspective. In Street view, you can browse a locale, pan and tilt, or zoom in on details — whether you're familiarizing yourself with a location or planning a burglary.
How to help others find your location your Samsung Galaxy tablet
It's possible to use the Maps app to send your current location to a friend. If your pal has a mobile device (phone or tablet) with smarts similar to a Galaxy tablet, he can use the coordinates to get directions to your location. Maybe he'll even bring some goulash!
To send your current location in an e-mail message, obey these steps:
Long-press your current location on the map.

To see your current location, touch the Location icon in the lower-right corner of the Maps app screen.

After long-pressing your location (or any location), you see a card showing the approximate address.

Touch the card.

Touch the Share icon.

Choose the Gmail item or the Email item from the Share Via menu.

The Gmail or Email app starts, with a preset subject and message. The subject is your street address or the address of the card you touched in Step 2. The message content is the address again, but it's also a link to the current location.

In the To field, type one or more recipients.

Touch the Send button to whisk off the message.
When the recipient receives the e-mail, he can touch the link to open your location in his Android mobile device's Maps app.
About This Article
This article is from the book:
This article can be found in the category: