The Safari browser on your iPhone makes it relatively easy to fill in online forms, but it can still be slow going, particularly if you have to do a lot of typing. To help make forms less of a chore, Safari supports a welcome feature called AutoFill.
Just as with the desktop version of Safari (or just about any other mainstream browser), AutoFill remembers the data you enter into forms and then enables you to fill in similar forms with a simple tap of a button. You can also configure AutoFill to remember usernames and passwords.
To take advantage of this nifty feature, you first have to turn it on by following these steps:
In the Home screen, tap Settings.

Your iPhone opens the Settings app.

Tap Safari.

The Safari screen appears.

Tap Passwords & AutoFill to open the Passwords & AutoFill screen.

Tap the Use Contact Info switch to On.

This tells Safari to use your item in the Contacts app to grab data for a form. For example, if a form requires your name, Safari uses your contact name. Safari displays the All Contacts screen.

Tap My Info and then tap your name in the All Contacts list.

If you want Safari to remember the usernames and passwords you use to log in to sites, tap the Names and Passwords switch to On.

If you want Safari to remember the credit card data you enter when making online purchases, tap the Credit Cards switch to On.
You could add your credit card data by hand, but the iOS 8 version of Safari enables you to enter the data automatically using the iPhone's camera. In the Passwords & AutoFill screen, tap Saved Credit Cards, enter your passcode, then tap Add Credit Card. Tap Use Camera, position the credit card within the camera field, and then wait until the card info is recognized.
Now when you visit an online form and access any text field in the form, the AutoFill button becomes enabled. Tap AutoFill to fill in those portions of the form that correspond with your contact data. Notice that the fields Safari was able to automatically fill in appear with a colored background.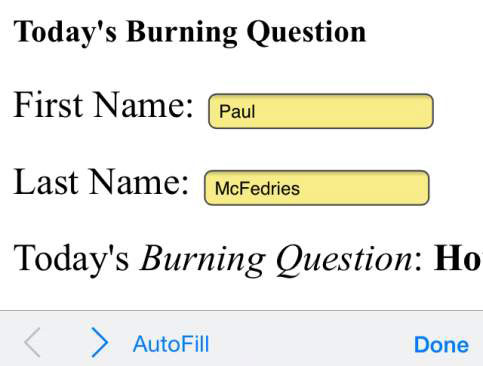 About This Article
This article can be found in the category: