Your iPhone's Messages app lets you exchange MMS (Multimedia Messaging Service protocol) messages, so you can use your iPhone to exchange pictures, contacts, videos, ringtones, other audio recordings, and locations with any cell phone that supports the MMS protocol.
MMS support is built into iPhone OS 3.0 and higher and works with iPhone 3G, 3GS, and 4 (but not the first-generation iPhone).
Sending an MMS message
You compose an MMS message a lot like you compose an SMS (text) message:
Tap the Messages icon on the Home screen to launch the Messages app.

Tap the little pencil-and-paper icon in the top-right corner of the screen to start a new text message.

At this point, the To field is active and awaiting your input.

Enter the person to whom you want to send an MMS message.

You can do three things to specify the person you want to message:

If the recipient isn't in your Contacts list, type his or her cell phone number.

If the recipient is in your Contacts list, type the first few letters of the name. A list of matching contacts appears. Scroll through it, if necessary, and tap the name of the contact.

Tap the blue + icon on the right side of the To field to select a name from your Contacts list.

Tap the message area and enter your message with the keyboard.

Tap the camera icon to the left of the text-entry field at the bottom of the screen.

Select or create the photo, video, or sounds you want to send.

Tap Take Photo or Video and use your iPhone to take a picture or record video to send.

Tap Choose Existing to pick a multimedia file that's already saved on your phone.

When you're finished, tap the Send button.
Receiving an MMS message
If your phone is awake and unlocked when a message arrives, all or part of the message and the name of the sender appear on the screen in front of whatever's already there, along with Close and Reply buttons. (A picture or video message appears in a bubble, just like a text message.) At the same time, the Messages icon on the Home screen displays the number of unread messages.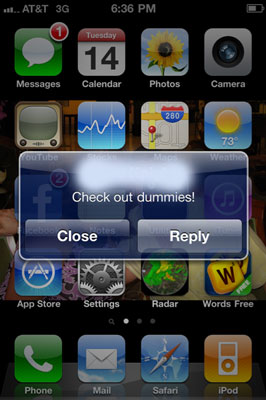 When you receive the notice that you have an MMS message, you probably want to see what it's all about:
To view or reply to the message, tap Reply.

The message appears on the screen.

If you want to reply to the message on the screen, tap the text-entry field to the left of the Send button.

The keyboard appears.

Create your MMS message, and then tap Send.
Your conversation is saved as a series of text bubbles. Your messages appear on the right side of the screen in green bubbles; the other person's messages appear on the left in gray bubbles.
About This Article
This article can be found in the category: